THE WINSLOW SAGA: 1981 - 1996
---
PART THREE: THE DENISE YEARS (1993-1996)
---
LATE 1992: Carl takes ten days' leave in early December.
There is much debate at his house over what to do about a car. The Corolla Diesel, still incapacitated, has lasted about 300,000 kilometres, and to fix everything on the car would cost over $US1200, so it stays in the garage.
Carl remembers Harvey Steinberg telling him that Denise likes old country music. He soon discovers that TV station KTTY is showing two hours of Grand Ole Opry videos from 4 to 6 AM weekday mornings. After working hours, the guys on phone watch are allowed to view television in the communications shop when things are slow, and Carl volunteers to take a couple of 4-to-8 AM phone watches so he can record KTTY's Grand Ole Opry broadcasts and give the tape to Denise if he ever meets her.
MID-MARCH: While off the coast of San Diego for a twelve-day exercise, Carl has a nightmare. He dreams that he visits Winslow only to find that Denise Gottlieb has passed away. When he wakes up, he thinks, "Oh no, have I put this off too long?" At that point, he's sorry he's stuck at sea. Shaken by the nightmare, Carl puts in a request for ten days' leave in May.
MAY 10: When Carl goes home on leave, his father has a brainstorm: he'll just rent a car for about ten days and let Carl drive the Corsica. The oft-delayed "Trip #3" is practically clinched now. Carl invites Alicia and Donald to go with him, and a date is again set: Sunday, May 16.
MAY 13: Carl digs down in a dresser drawer and fishes out an old page from a Winslow phone book that he copied in 1985. It has a listing for Francine's Diner. Even though it's more than likely the number has changed, maybe whoever has it can tell him how to reach the place.
He dials the number. A lady answers.

"Hello, is this Francine's Diner?"
"No," says the woman. "Francine's Diner burned down two years ago."

This puts a slight kink in Carl's plans. Undaunted, he doesn't cancel the trip, just tries to think of another way to meet Denise.

MAY 15: Alicia rings Carl that evening and tells him that Donald will be too tired from working and more than likely won't go.

MAY 16: Donald rings Carl in the morning and says, "So are we going to Winslow or what?" Carl tells him about Alicia's phone call and how he thought Donald wouldn't go. By now, it's getting late in the morning and by the time they get up there the day will be half gone. He talks them out of going and decides he'll make the trip tomorrow alone. He goes rollerskating that night in Glendale, Arizona with Barry Fitzgerald, Barry's girlfriend Gayle Eastman, and Linda Chemult.

---
M A Y 1 7 , 1 9 9 3:
Almost twelve years after reading about her in the Weekly Inquisitor, CARL FINALLY MEETS DENISE GOTTLIEB!!!
To read the full account of this glorious day from start to finish, click anywhere on this paragraph.
---
SUMMER 1993: Seeing as how the third trip went VERY well, Carl puts in for leave in September, just before the Tarawa goes up to Long Beach for an extended overhaul. He buys Terrence Drysdale's 1986 Olds Cutlass Supreme.
SEPTEMBER 24: Using the Olds, Carl makes his fourth trip to Winslow. He gets there shortly before noon, and learns that Denise has gone home for the day.
NOVEMBER: Carl is awarded the Good Conduct Medal in a ceremony on the USS Tarawa.

With each fill of the Olds' gas tank, Carl misses the Corolla Diesel and its 19 km per liter a little more. Finally he calls around and gets a good deal on drive axles, saving $400 over what it would have cost to special order them from Arizona.
DECEMBER 24: Carl flies home with the drive axles and hurriedly gets the car towed to the shop. He spends Christmas at his parents' house, and flies back to Los Angeles on the 26th, where he keeps in touch with the shop about the car.
DECEMBER 29: Carl starts another ten days' leave. On January 3, the Corolla Diesel is fixed.
A little discouraged by his failed fourth Winslow trip, he becomes close with Linda Chemult.

* * * EARLY 1994: Francine Gottlieb passes away.
SPRING: Carl and Linda break off their relationship because of some differences. During the summer, he will try for a reconciliation.
APRIL 12: Carl buys a used handheld camcorder for $375 for the purpose of recording his reenlistment ceremony.
* * * APRIL 14: Carl reenlists in the Navy for another four years. The ceremony is held on the forecastle of a barge in Long Beach Harbor that the crew uses on duty days. Reenlisting with him is Terry Drysdale.
APRIL 27: With the gears in the camcorder too tight, distorting the audio, Carl goes to Circuit City and buys a VHS video camera to supplement it.
APRIL 29: On the day that Carl's first enlistment would have expired, the Corolla Diesel's odometer registers its 200,000th mile (320,000 km) across the street from the Long Beach Sheraton. With both cameras, and two guys following close behind in another car, Carl records the event.
JULY 15: Having received orders to his new command some weeks earlier, Carl checks off the Tarawa and goes home on leave.
JULY 31 - AUGUST 1: CARL'S FIFTH TRIP TO WINSLOW
This is the first trip he's made in the fabled Corolla Diesel. At Schultz's, he learns of Francine Gottlieb's death. He attends an evening service at a Baptist Church. Although he doesn't get to talk to Denise, He manages to get some photographs of a fire-damaged Pizza Hut and some video of the vacant lot where Francine's Diner once stood. He gets a room at the Winslow TraveLodge which has since changed its name to the Price Right Motel. The following day, he goes by Denise's work. The front door is not open but the side door is, and he feels uncomfortable so he doesn't go in. He takes a side trip to Joseph City and gets some good video of scenery. Coming back to Winslow, he finds that Denise and friends have already gone home.
AUGUST 8: Cutting his leave short, Carl checks in to his new command, Amphibious Squadron Five on board the USS Essex. They get underway that same day.
AUGUST 21: Carl and Linda resolve their differences for a time. Linda wants to get back together with him, but he's unsure.
OCTOBER 22: Carl is returning from the Arizona State Fair with Linda and her friend Sheila, when the car's timing belt snaps at 75th Avenue and McDowell Road. Serious engine damage results, the worst since 1985.
OCTOBER 25: Carl leaves with his new command on another six-month deployment to the Middle East.

MARCH 17: After 51 days at sea, the Essex pulls into Perth for a one-week stay.
APRIL 25: The ship returns to San Diego.
JUNE 10: Carl buys a 1994 Toyota pickup truck at a tent sale at Jack Murphy Stadium. He drives to La Crescenta the next day.
LATE JUNE: Carl and Linda break it off again.
JULY-AUGUST: Carl sets his sights on a girl at church, but she doesn't seem interested. Late in August, he goes to Hawaii for an exercise with his command.
NOVEMBER: Carl goes on leave for the first time in over a year. He flies to New York to videotape the wedding of another one of his cousins.
NOVEMBER 21 - 22: CARL'S SIXTH TRIP TO WINSLOW
The first stop, as always, is Schultz's General Store. Maybe Carl just needs the emotional boost to get him going. He drives around town for a while, just to burn off some time until Denise gets off of work. He gets a room at the Price Right Motel, then drives by Denise's work and parks down the street. Like 1994, the front door to the office is closed but the side door is open. Unlike 1994, Carl goes in this time.
A new lady working there gives him a friendly greeting. Carl tells her who he is and how he met Denise Gottlieb in 1993. For a time, Carl and the new lady are the only ones in the room; soon a well-dressed young man named Ken comes in.
Carl and Ken talk for about a half hour; then Denise comes in with a couple of other people. Initially, she doesn't quite remember Carl; it's almost as if he's meeting her again for the first time. But she takes to him just the same, even asking him to stop by her work the next morning.
Carl goes back to Schultz's to tell Betty the news. His spirits are high the whole night, eagerly anticipating the morning.
Morning comes. He eats breakfast at McDonald's and washes his truck in a wash bay down the road. Then it's off to Denise's work.
No one seems to be there yet; he assists a young lady in unlocking the door. He's got his video camera with him and hopes to get an image of Denise on tape. Ken rounds the corner with a bunch of people and Carl sees the silhouette of Denise in the vehicle as Ken drives by. Ken has to take care of some business beforehand so he doesn't stop.
Moments later Carl hears a voice behind him say, "Excuse me, we can't have you around here." It's Denise's supervisor, Barbara Harrison. At first, Carl is worried that he's doing something wrong. But then she tells him that it's a new 'no visitors' policy that the new management has enacted. He chats with her for a few more minutes and then heads back to the motel.
A few minutes later Ken pulls up to the building and Denise asks, "Where's Carl?" Meanwhile back at the Price Right, Carl is sitting on the bed somewhat depressed.
Shortly after 10 AM, Carl opens the door and is surprised to see one of the people from Denise's work in the parking lot. He goes outside and looks over to find Ken and a few of Denise's other coworkers cleaning rooms at the motel!
Carl says hi to Ken and they chat. He learns that the reason they didn't stop when they rounded the corner is that Ken had to use a telephone. Carl asks where Denise is. She's stayed behind at the office unfortunately, so Carl writes a note to her and gives it to Ken.
Despite the fact that he failed to see her a second time on this trip, Carl goes home quite happy. He's got a definite plan now. No longer will he have to bug anyone at Denise's work, and he'll have no trouble deciding at which motel to stay next time.
On Thanksgiving Day, Carl makes a somewhat bold move. He rings Denise Gottlieb on the phone, even though she doesn't know he has her number.
They talk for about twenty minutes and she is friendly. Carl says he'll try and see her next time he's up.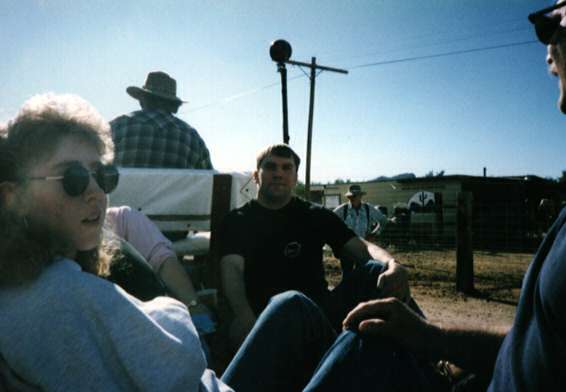 DECEMBER 2: Carl goes on a hayride with a church group in Tucson. Among the group is a young lady in a wheelchair. He learns that she was physically normal until a drunk driver hit her. Soon after this, Carl decides not to drink any more alcohol.

* * * DECEMBER 25:-( Carl rings Denise to wish her a Merry Christmas, but gets her sister Rhonda's answering machine instead. Then he makes a VERY BIG MISTAKE: he leaves a message. Rhonda hears it later and is alarmed because she's never met him and doesn't know what he's like. She cautions Denise not to invite him over.

APRIL 9: Carl starts another ten days' leave. He drives up I-15 to Barstow, then takes I-40, intending to go to Winslow directly from San Diego. Having started the trip late in the day, he spends the night in room 312 of the Motel 6 in Kingman.




APRIL 10-12: CARL'S SEVENTH TRIP TO WINSLOW
APRIL 10: Carl leaves Kingman around 8 AM, recording more scenery. A few smatterings of Flagstaff, then Twin Arrows and Two Guns. Around 10:30 he tapes himself getting off the 40 at Exit 253, then it's cut to the Price Right Motel. None of the people from Denise's work are there.
Just for fun, he's brought his cordless phone with him, but it doesn't work on the motel's phone system. Around 4:00 he goes to Denise's work as Ken is getting ready to take some people home. She's sitting in the back of the vehicle and happens to look out the rear window as Carl approaches. He waves to her. He peeks in the vehicle and says hi to Ken. Then he hears Denise say, "I'm over here, Carl!" He says hi to her and asks if he can ring her. He tells Ken where he's staying.
A new girl sitting in front of Denise asks, "Carl, who's your favorite hockey team?" He's torn between the L.A. Kings and the New York Rangers, but he'd gone to his cousin's wedding in New York in '94 the night after a big game so he tells her it's the Rangers. Then she asks, "Who's a Penguin fan in your family?" He's not sure.
That night he rings Denise. They talk for almost an hour and a half about everything from A to Z. She wants him to get her something, and suggests Lion King or Pocahontas toys. He gives her the number to the motel so she can ring him if she wants. Sure enough, she does and they talk a little more.

The next morning, he eats at McDonald's and goes back to the motel, anxiously awaiting the arrival of Ken and the cleaning crew. At 9:53 AM, he hears Denise's voice in the parking lot. As she walks by his room he opens the door and they wave to each other.

At 9:54 he turns the video camera on and excitedly says that Denise is here. Leaving the door open (and the camera on), he piles a bunch of clothes into his seabag so the room will look somewhat okay. Then, with camera in hand and country station KAFF playing in the background, he gets a few images of Denise and friends cleaning the room, and shows Ken his copy of the book Sliders. He leaves the camera on until the tape runs out. He tells the proprietor he'll be staying another night.

Around noon he drives to Flagstaff Mall -- a good 60 miles. It is snowing lightly when he gets there. He goes into a toy store and finds they are having an incredible sale. He buys not one, not two, but a bag full of Disney stuffed animals; about $50 worth, for $19.05.
When he gets to Denise's work, she thanks him for the Disney stuff. Later that night she rings him at his room and they talk more. Friday morning he heads home, his time in Winslow well spent.
MAY 10: The night before leaving for a Hawaii for a month, Carl briefly chats with Denise on the phone.
SEPTEMBER: Carl goes on a liberty cruise to Mazatlan.
OCTOBER 9: Carl checks out of his command the day before a six-month deployment, and goes on leave.
OCTOBER 20: The Ichabod College Homecoming is held. At the 10th Anniversary reunion of the class of '86, Carl sees Geoff D'Amato and tells him everything about what went on in 1987-88. He is finally able to put the whole Nicole thing to rest.
:-( :-( :-( OCTOBER 30, 1996: CARL'S EIGHTH TRIP TO WINSLOW
By chance, he runs into Ken at Arby's and they chat. He shows Ken some photos he took on previous Winslow trips.
To pass the time, Carl stops by the Pilot truck stop and contemplates buying a gold-plated Eisenhower dollar, but changes his mind. He goes to The Reminder and buys a few souvenirs.
Later that afternoon, Carl goes to Dairy Queen and has a small Blizzard snack, which he takes with him when he leaves. He drives around a bit to kill time, and parks down the street from Denise's work just as she is about to go home. Around 4 PM, he says hi to her as she's coming out the door.
They chat briefly as Ken is getting ready to take people home. She tells Carl that he can't ring her tonight because she's going out. He shows her some souvenir pins he bought at The Reminder. Moments later, Barbara Harrison comes walking around the corner.
Caught off guard, Carl awkwardly asks, "How ya doin' Barb?" She says hello, then says apologetically, "I'm sorry, we can't have you around here." She goes on to tell him that Denise's sister and stepfather have requested that Carl not be allowed around Denise. He has done nothing wrong, but after all he is a stranger and they are naturally suspicious.
Disappointed but not surprised, Carl tells Barbara that he understands their position; after all, he did push his luck with that Merry Christmas message and the Disney Toy stunt.
Realizing that he has been a little too kind to Denise too soon (one stuffed toy would have been enough), Carl says farewell to Ken, shakes his hand and starts back toward the truck. Carl and Denise manage to wave goodbye to each other before he walks away. He can now only look back in regret.
---
"My only crime of passion
Was that I pushed too hard
And if love's what I'm accused of
Then I'm guilty as charged


Well I learned an honest lesson
Guess I never realized
If I overstepped my limit
Then I apologize"


--From the song Hold Me Harmless by Roger Wojahn
Performed by Blackhawk on their CD Love And Gravity
Copyright © 1997 Wojahn Bros. Music, Moraine Park Music (ASCAP)
Return To Top
---