THE WINSLOW SAGA: 1981-1996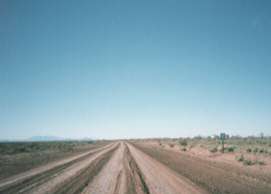 Looking north from Northpark Drive, on a lonely stretch way out past the landfill at the edge of the road where the pavement ends (hey! this is starting to sound like a country song!) When Carl took this photo on that fateful day in 1996, little did he realise that this image would pretty much sum it up for him. Read and enjoy.
-- Dave


Magazines: Top Ten
PROLOGUE
A typical June evening in Santa Monica, California was made up of many different activities embodying a sizable city: fathers relaxing in front of the TV with a cold one, night spots opening up, kids staying out later to play, college students busy studying for finals in night class, beach crowds going home, and evening joggers fading into the setting sun. June nights were usually pleasant here; a windbreaker or light sweater would suffice for an outdoor stroll. It was good weather for a barbecue.
Over on Hill Street, Carl had just finished the first day of his second week at the KALT Corporation, a company which supplied just about every piece of photographic equipment you could think of. Unlike the previous summer when VOLT Temporary Services had given him numerous two-day or one-week jobs, he'd have this job for the whole summer -- and he'd landed it with the first phone call to VOLT.
Still, working from 7:30 to 5 was a long day by his standards and he was hungry and a little worn out. He decided to go for a walk. He went to Jan & Joe's Liquor Store on Pico Blvd. at the city line, and bought a snack and a bottle of soda. This being a Monday night, the new National Enquirer had just hit the stands and he needed something to read.
Carl didn't buy the Enquirer every week, just when he was in the mood for good fiction. He always got a kick out of the idea of people making money passing this stuff off as fact. He often caught himself reading one of the more down-to-earth human interest stories and wondering if it was true after all and the Enquirer had just put it there to give themselves some credibility. But then again.....naahh.
He flipped the page a couple of times. Hmmm. A few UFO stories. Sorry, not interested. That stuff's pure bull. Let's see here. Oh isn't that a cute little animal. Let's look over on this page. Oh man. Some French guy named Paul Balay has been in a coma since 1956 and his mother comes to visit him every day. Wow that was sad. Hope that never happens to me.
Then he turned to page five.
There, staring him in the face, was an article that not only caught his attention but held it hostage for quite a long time. Across the top of the page were emblazoned thirteen words that would set this decade in motion:
America's Living Doll Grows Up
Tiny Girl Beats Big Odds To Reach 17
The story, taking up practically the whole page, told of a young girl born with a rare disorder known as "ring one chromosome." She was only four-foot-three, a little slow, but friendly as anything -- and appeared to be single and unattached.
Carl read the article again, and still again. Her name was Diane Proctor. She liked to wear designer jeans, she could ride a bicycle, she could cook. The entire town loved her. She'd lost her adoptive father to a heart attack in 1976. Despite this, she'd kept her sunny disposition for which she was soon dubbed "Sergeant of Smiles" by the local police department.
Now, The Enquirer is known for the low quality of its photographs; it can sometimes make even the sexiest Hollywood starlet look like yesterday's lunch. Despite the photographic shortcomings, Diane didn't look too bad -- and if she "didn't look too bad" in one of their photos, she must have looked great in real life! Carl's favorite photo was one of her standing on a chair next to a stove, with the caption "VITAL INGREDIENT when Diane is cooking is a chair -- so she can see what she's making!"
She looked pretty cute in that shot. And sweet seventeen too. It didn't take but a few minutes for 21-year-old Carl to develop a crush on her -- and begin devising a plan to meet her.
The bad news was that she lived far away: 500 miles from Santa Monica, in the town made famous by the Eagles' song Take It Easy: Winslow, Arizona. The good news was that near the end of July Carl would be taking a road trip to Canada with Craig Cole and David Webster. This trip would involve at least two stops in Arizona. He'd never been there before.
On July 8, Carl attended a Bible study with three KALT employees named Mark, Cesar and Bob, and also Danny Cragin's friend Sylvester. On the way back, the car they were in broke down and they were stranded way up in Agoura Hills for two hours.
The workday at KALT was always the same. Carl decided to liven up the workplace and wrote numerous corny jokes on several wooden shelves in the warehouse. He even went as far as writing a "directory" on a shelf in aisle 8A telling where all the jokes were, and calling the whole mess the "Kaltered States Graffiti Ensemble." Finally about 2:30 a worker named Tony moved a box covering the third joke in a "trilogy" that was part of the Ensemble, saw the joke, got one of his co-workers, and by 3:00 the entire picking department was running around the warehouse, some with pen and pad in hand, trying to find them all!
Carl had been a little hesitant about going on a cross-country trip with Craig, ever since the idea was proposed on February 1 during a snow trip to Angeles National Forest. He was now a little leery of Craig's driving habits, considering Craig had gone up Angeles Crest Highway with tires squealing on almost every turn.
Even though Craig was a skillful driver who had taught him how to drive a stick shift, Carl couldn't help but have these paranoid thoughts of a yellow 1981 Toyota Starlet crashing through a guardrail and hurtling three unfortunate geeks thousands of feet to their deaths. (Maybe it was his upbringing.)
By the time July came and he'd had the Enquirer article for over a month, his mind had divided into two warring factions: the aforementioned crash scenario, complete with traditional explosion, charred remains and body bags; versus the more pleasant thought of Diane's Prince Charming riding into town in a little yellow chariot, sweeping her off her feet, taking her as his bride and living happily ever after.
He couldn't wait to go.
In the early morning of July 25th, they set out. First they visited Fred Morgan in Tucson, then Craig's uncle and David's grandparents, all of whom lived up in Prescott. From here, it was only 147 miles to Winslow. Carl begged and pleaded with them to PLLLLEEEEEEEASE go to Winslow after the Grand Canyon.
But no dice. The closest they would get would be a little town called Kayenta, on the way up to Four Corners. Arizona wouldn't even figure on the way back.
Although the Canada trip did not have a Carl-and-Diane meeting as its biggest triumph, it had more than its share of memorable moments: Carl almost crashing into a horse; Craig and David doing impromptu rafting down a stream in Colorado; Carl breaking a pop-tart into four pieces and circling the Four Corners monument eating one piece at a time and then standing on one foot in the center of the monument; Craig taking a bath in a lake on a cold windy day; TV Guides from every state piling up in Carl's suitcase; Craig buying cheap supermarket sodas that tasted like motor oil; the three of them going the wrong way for an hour one night because the highway signs were too small (and Craig driving back the other way at over 80 mph to make up for the lost time); the three making an "illegal" campsite behind a hill in Yellowstone National Park because all the campgrounds were full; David putting in a Led Zeppelin tape his brother copied from an album and hearing the same guitar riff for fifteen minutes because the record had started skipping after his brother left the room; the three of them buying $15 worth of fireworks in Wyoming; spending over an hour at the border station and having everything taken out of their car while other cars were just briefly glanced over; the fireworks getting seized by Canadian customs; Banff National Park in Alberta; missing the Royal Wedding; playing in the snow somewhere in Washington state (in August); Dave Moylan's house near Seattle (the lap of luxury after endless nights in a tent); finding a small box of fireworks the customs agents missed; staying in a motel in Anderson the night before they came home; and dozens of bad photographs.
There wouldn't be another trip quite like that one. When they got back, Craig received word that he'd been let go from his job at BFA Educational Media as they were closing down.
If Craig Cole and David Webster had known just how long the Winslow thing would be dragged out, they probably would have had the heart to stop there.
Carl kept the Enquirer article. Although various events would keep Diane out of the picture for awhile, he would come to remember her time and again.
TWO: THIS WAS RADIO!
A mild earthquake was felt in Los Angeles on Carl's last day at KALT. The next day, he headed off to Thousand Oaks to begin his junior year at Cal Lutheran. As he moved his belongings into room 915 on the third floor of South Hall, he anticipated a quieter year than the last two because he was no longer living with the party animals he'd roomed with his first two years and was tired of being the butt of their pranks. This year's guys, including the sophomore class president, were a much mellower group. If he was ever in the mood to party, there was always Dave Moylan and his bunch across the hall in room 912, or Andy Kvammen and J.T. Gantz over in Mount Clef Inn, or even Carl's old roommates, now housed in West 1101. One of his new ones, Scott Morton, came by the next day and told everyone he was going to college in Minnesota. Carl now had only three roommates.
Carl had launched his radio career in March, 1980, with the help of Alicia Thornton. She'd given him his first break reading the KRCL 9 A.M. news on Mondays and Wednesdays. Once he got his foot in the door, he was able to secure the midnight-to-2 A.M. slot on Saturday nights. Almost all the new deejays got that slot first because everyone was out partying and few were listening, so they could get in some practice and the station could save face if the guy didn't work out.
The first song he ever played on the air was Van Halen's Dance The Night Away on April 12, 1980. David Webster had been in the studio with him. One thing Carl said on the air that night was that it was the fourth anniversary of the day he'd gotten his driver's license.
The memorable event of the night was his goof during the opening notes of Supertramp's Take The Long Way Home. His roommate Dave had requested that song, and while Carl made mention of this over the air he reached back to take the needle off the other record and his hand missed, swiping the armature across the grooves of the idle record. This wouldn't have been so bad had he only cued down the other turntable. (If you were listening to KRCL that night and you heard a "zzzweeeeep!" sound during a Supertramp song, that's what it was.)
He'd since come a long way at the station, and now it seemed he'd be a shoo-in for the title of Music Director. He'd expressed an interest in the job the previous school year, and by May 1981 had three semesters of DJ work under his belt plus a knowledge of both top-40 and progressive music, which helped.
The staff meeting was held on September 14. After talking with station manager Don Haskell, Carl got the job and a key to the station. He went to the old Program Director's dorm room with three other guys and they retrieved innumerable albums that had come in over the summer. It took several people to sample and rate all the records so they worked at a fast pace. The station was going back on the air in a few days.
THREE: FIVE DAYS ON CLOUD NINE
Thousand Oaks is a very green place. Tucked away in the Conejo Valley over the hills from Ventura and well away from the City of Lost Angels, the town has been rated by the FBI as one of the safest places to live. The establishment of California Lutheran College by the Pederson Family in 1959 may be a factor in the low crime rate as a legacy of alumni with strong values have opted to live here to be near a place of happy memories.
In September, a student feels a sense of newness regardless of his or her standing. The arriving freshman eagerly awaits a brave new world; the upperclassman a fresh start. Against the backdrop of lovely hills, open space, longer days, beautiful sunsets and pleasant weather, romance can sometimes blossom.
Such was the case on September 18, 1981.
Aside from a trip to The Oaks Mall with two of his new roomies, Carl doesn't recall much about the earlier part of that day, but he remembers the night, and the next few days, in intricate detail like it happened yesterday. That night his life changed, he changed, and the world seemed to change -- all for the better.
The school gym doubled as an auditorium and tripled as a church. Peeking in the door of the gym, he caught a few seconds of Apocalypse Now and then went to Pederson lounge on the other side of campus. His friend Derek came in with a girl named Ann and her friend Jennifer. All three were freshmen.
The four of them started talking and even did a little arm-wrestling. Someone suggested they go out for a midnight snack. Carl got his car and soon they were all driving down US 101 toward the Agoura Denny's in a beat up '65 Rambler with no top and no radio, just Carl's weak cassette tape recorder and Billy Joel's Glass Houses tape; Derek and Ann in the back, Carl and Jennifer in the front.
Having had nothing but bad luck with girls ever since he could remember, Carl anticipated that after they left Denny's they'd drive back, go their separate ways and MAYBE he'd get Jennifer's phone number, call her and fail to get a date. (This was how he'd been conditioned by society. He didn't notice that she'd been sending signals to the contrary since they left Denny's.)
When they got back to the Lu, Carl suggested they go into the KRCL studio and listen to music. The station was off the air for the night and Andy and J.T. were sitting on a couch outside the door.
Carl unlocked the door and everybody shuffled into Studio A. This was where practically all the DJs did their shows. Studio B was used mostly for production and remote broadcasts, although its two turntables were in much better shape.
Everyone sat there shooting the bull, J.T. soon lost interest and left, Andy pulled out a beer he had hidden in his jacket and they all heard a few albums. Then a strange thing happened: Jennifer made the first move! Noticing that Carl was the only one standing up, she said, "Don't stand up, share the chair!" Carl awkwardly eased into the chair she'd been in and she sat on his lap, squeezing his hands as his arms were around her. He occasionally nuzzled his head against her back.
Derek and Ann soon left. Andy, having finished his beer, sensed what was going on and gracefully exited Studio A, doing an impromptu mock DJ signoff as he walked out the door.
By now it must have been 2:30 am. Carl and Jennifer were alone in the station, still listening to records. Both were avid Beatle fans, and decided to listen to side one of Sgt. Pepper's Lonely Hearts Club Band. For the first time in a long time feeling confident that a girl would say yes, he asked her to dance.
They slow danced to the entire first side of the album, even the loud title track. By the third or fourth song, his confidence zoomed into overdrive and he decided he'd try and kiss her. The two locked lips in a french-kiss that must have lasted twenty seconds but seemed more like eight or nine. He performed this act rather well considering it was his first french-kiss ever, and not even expected at that. This must be an inborn trait, he later thought.
He got her phone number and when the album was over he walked her back to room 232 of Pederson Hall and they kissed goodnight.
Words could not accurately describe how he felt at that moment. He ran back to the station, unlocked the door, went inside and yelled a hearty "YAHOO!" that could have awakened John & Reggie in room 331 directly above. Then he fell to his knees in an excited prayer of thanksgiving and praise to God for this lovely creature. Had anyone been in the station or the Mountclef foyer about this time, Carl would have looked like a complete ass -- but being 21 and feeling 14, he was just too happy to care.
Driving back to his end of the campus, he stopped near the Conejo Hall turn and chatted briefly with Jay Kramer, the night security guard who was headed the other way in the truck. It was here that Carl first noticed a change taking place inside himself. As they discussed radio station security and lockup policies, Carl exclaimed, "Yeah, well I'll make sure no one else uses MY key to get in there!" or words to that effect. Was this really HIM talking? Whatever the actual wording had been, he remembers that it was a pretty bold statement that made him feel like a man.
He was too excited to sleep. He wrote in his diary for perhaps the first time since the Canada trip. The entry began with, "What happened tonight was historic -- a first." He then went on about how even though all the best moments happened after midnight, making it the 19th, he'd put everything on the Sept. 18 page in case things fell apart. The last third of the page was all about Jennifer.
It wasn't until the sun's rays beamed through the windows of room 915 that he finally dozed off.
Around 3 p.m. he called her. She agreed to eat dinner with him at the Cal Lutheran cafeteria. They sat practically alone in the upstairs dining area, telling each other about themselves. Carl told her about how he got to Cal Lutheran, he lived in Santa Monica, he was a junior, and so on. Jennifer was a freshman p.k. whose father preached at a Lutheran church up in Fairfield. She'd gone to Armijo High School, class of '81.
Realizing that there may be a definite chemistry between them, Carl started to relax. They ate and talked some more. Someone downstairs pulled a faux pas and then the air was filled with the sounds of several plastic bowls hitting the ground, followed by the usual applause and traditional collective clinking of glasses. Undaunted, they continued their conversation and left.
On the way to his room, Carl saw a lot of people on Memorial Parkway. Not one to pass up a good thing, he chose to walk down the street with her rather than cut across the football field. This way, he could proudly show her off to as many people as possible. The person that acknowledged him the loudest was Luke Patterson.
The two spent the rest of the day together, and for the first time Carl skipped a school dance on purpose. Later he took her to a midnight showing of The Kentucky Fried Movie at the Oaks Mall. The following day they were practically inseparable.
The big test would come the next day -- a school day. Could romance and schoolwork coexist peacefully? If they could, then all other hurdles would be cleared easily.
Monday, September 21, 1981.
In the little Central American country of Belize, The Gordon Highlanders stood at attention as the British flag was ceremoniously lowered from the capitol building for the last time. Three thousand miles away, on the campus of a small liberal arts college, a certain Romeo was gaining independence from the past and his Juliet was being very supportive.
It would be the best day of Carl's life.
Jennifer met him outside around 11:50 just as his computer class was letting out. As the couple walked to the cafeteria hand in hand, two of Carl's old roommates dropped mouths and stared in disbelief. How did a guy like Carl ever get a cute blonde like that??
The sign-ups for this Saturday's Vegas Nite were at the door to the cafeteria. How proud Carl was when he signed up as a card dealer, she as a waitress. (They still took pride in Vegas Nite back then.)
They walked down the steps of the cafeteria together. Heads turned. As they ate at a round table in the back, chairs side by side, the dining hall (and the rest of the world) seemed like a new place. Carl's cheshire-cat grin couldn't have been wiped off his face if you'd thrown ten coconut-cream pies at it.
After lunch they went to the mail room, picked up the KRCL mail and took it to the station, Carl's head held high. Then it was off to Thrifty Drug to pick out an alarm clock.
Almost like being in love.
Schoolwork and class schedules kept them apart for the rest of that day, but by no means would this bring him down from his near-euphoric state. Luke Patterson cheered him on later: "HEY, man! Good lookin' girlfriend! Looks like this is gonna be YOUR YEAR!"
Carl visited his old roommates in West 1101 and was treated a lot better. He gave away his copy of the book "How To Pick Up Girls" which he never used and surely didn't need now. (Besides, the only line in that book that even stood a chance of working was "Wanna smoke a joint?" and Carl wasn't interested in female potheads anyway.) He spent some time there listening to music, talking with the guys and basking in their new-found respect for him.
And loving every minute of this day.
He topped it all off by going over to Studio B and recording Billy Squier's Don't Say No and April Wine's The Nature Of The Beast on to separate LN-46 cassettes while Dave Moylan was spinning discs in Studio A. After Dave's show, they went out to eat.
As Carl climbed the stairs to South 915, he realized what a banner day September 21 was. You know a day is one to remember when you see its greatness even while it's still there in front of you.
All of the bad memories faded: the grade-school memories of being laughed at for being a funny-looking crewcut kid in the '60s; getting beat up all the time; the tyrannical fifth-grade teacher who sent him to the office for even the slightest infraction; the junior high memories of being a social outcast, saying and doing incredibly stupid things, getting cut from the ninth grade basketball team, missed opportunities, lost altercations and broken hearts; the high school memories of shyness, loneliness, awkward moments, never having a date, millions of strikeouts, and meeting a girl at Grad Nite only to get ditched; the adult memories of foul play and bad decisions..............
After years Carl finally had what he wanted most. The darkness of past failures didn't seem to matter anymore. Jennifer had broken those chains. By the end of September 21 Carl was a new man. A different man. A REAL man.
All was forgiven. He was now vindicated.
Just by being there, she somehow revolutionized his whole attitude, and it was a welcome change. Although he was just 21, he felt much older and more mature.
He started looking to the future. He no longer wanted to stay at college forever. He wanted to hurry up and graduate, spread his wings and together they would soar with the eagles. THIS was the New Carl. A fearless king who had just conquered the world. Now that he had something to live for, a beautiful woman by his side, the future held limitless possibilities.
For the first time in his life, he felt whole.
September 22 wasn't as pronounced as the 21st, but it was almost as good. Put another way, if the 21st was a soda, the 22nd was the diet version. Carl walked Jennifer to her classes and ate with her, but that was about it. He didn't see his old roommates. He wrapped up the evening sitting outside the KRCL studios listening to Hugh Harsh's show.
Accustomed to always striking out, Carl told himself a little joke: "This might even last 'til October!" He was being sarcastic, of course; he was confident he'd keep Jennifer for a long time.
But then came September 23.
Repeating the emotional high of two days previous, he showered while listening to the Billy Squier tape and then went to the cafeteria to meet Jennifer.
Something seemed different about the way she talked to him.
They left the cafeteria and got the KRCL mail. Carl gave Andy a few records to rate at the station and then he and Jennifer sat down by a tree near Kingsmen Creek.
Carl isn't sure as to what exact minute the end came; it was sometime between 1:15 and 1:30 that she dropped the bomb:
"Are you getting, um, really serious about me?"
Sensing something wrong but not letting on, he replied, "Yeah, I think I AM."
Then it happened.
The next words spoken by Jennifer effectively brought the New Era to a sudden and untimely halt.
"Well, I don't really feel the same way....."
Leaving paradise isn't easy, my friend. Cloud Nine is perched so high that when one falls off of it (or in this case, gets kicked off), the crash to the ground is all the more painful.
Suddenly everything that had transpired between last Friday and lunchtime seemed like a million years ago. The smile disappeared from his face. As the Old Carl slowly returned, he could almost feel his crushed ego slowly deflating like a day-old helium balloon.
He doesn't recall what all he said in his distress, but somehow his emotional state had made her concerned enough to care. Jennifer agreed to meet with him after dinner to talk it over because, in her words, "we can't leave things hanging like this."
By now, Andy had finished reviewing the records. Carl visited the station but told no one of the Tragedy At Kingsmen Creek. He walked to the deserted Pederson rec room and sat down, deciding to skip dinner. He was now on a hunger strike.
Around 6 p.m. he met Jennifer. The New Carl had been in a coma for nearly five hours and the Old Carl would now try to revive him. He told her that he still wanted to go steady; the relationship would work. He'd make it work.
It was no use. Jennifer wasn't ready. Some of the reasons she gave were "I'm too independent," "everything happened so fast," and every Lutheran girl's favorite mantra, "I really don't have time for a boyfriend right now." (He'd heard that last one before and the girl would always wind up with a boyfriend shortly thereafter.)
By the time he walked her back to Pederson 232, they'd reached a compromise. Agreeing to disagree, they would still see each other as friends (and the shortest hunger strike on record ended.) He gave her one last french-kiss goodnight, but it just wasn't the same.
The next morning, Carl had his first radio show of the year. It was just the same as all the other shows he had done. After all, this was the Old Carl. The pre-September-18 Carl we'd all grown to know and pick on. We'll never know how the "New Carl" would have sounded on the air because he'd been dead almost eighteen hours.
Friday the 25th found Carl in Pederson lounge with Derek again, but the previous Friday was not repeated as he had hoped. Vegas Nite on the 26th wasn't nearly the blast it could have been. On the 27th he took Jennifer to the Oaks Mall so she could get a pair of shoes. She wouldn't hold hands with him as they walked to the store.
During October, he'd see her a few times but didn't push things. Midterms were setting in and he'd have his mind on studying and other activities, but he still thought of her every day.
FOUR: FEAR AND COPING IN THOUSAND OAKS
October was dominated by the usual antics he was notorious for. He placed a cardboard box in the SUB with crudely-typed applications for the "CLC Dating Service." Within a couple of weeks over twenty people had signed up and he was delivering printouts to people's rooms under cover of darkness. Although he never used the dating service himself, he termed it a "runaway success."
On his 22nd birthday he took copies of the past seven days' newspapers and placed them in an unused locker in the SUB. With a brief one-minute "ceremony" attended by just two people (Mike Maricle and Tom Wilkes), he locked up the newspapers and used label tape to mark the front of the locker:
CALIFORNIA LUTHERAN COLLEGE
TEST CAPSULE
DEDICATED 10/13/81
TO BE OPENED 10/13/82
Carl participated in a 10-kilometer CROP Walk to stop hunger and visited Jennifer on her 19th birthday. A week later he rented a decoder from Storer Cable. The hookup in his room was busted, so he used the box in the SUB. Sometimes as many as a dozen people turned out to see uncut movies such as Superman, The Competition, Voices, The Howling, and Motel Hell.
Carl's radio show on KRCL had been moved to Wednesday afternoons. On October 28, he was in the middle of his show when Don Haskell walked in and told him to shut down the station. Carl gradually faded out the song Gemini Dream by The Moody Blues (and sent a tone signal over it) and announced that KRCL would be off the air "for about an hour or so." Then Don and an assistant began removing pieces of equipment and Carl was told to exit the dorm. Soon most of the residents joined him outside.
"Just what was going on?" he thought. A few moments later he found out: around 12:55, someone had phoned the campus switchboard and threatened to blow up the station!
Had Carl's show really been that bad? Of course not! But three DJs had been fired in the past month. Also, an interview with a rabbi was scheduled and the rabbi's house had been vandalized recently. Whichever the reason, the whole thing turned out to be a hoax, and it made the front page of the next Echo.
The KRCL bomb didn't exist, but a second, very real emotional bomb was dropped on Carl on November 7. He called Jennifer's room. Her roommate, Heidi Behling, told him Jennifer wasn't there. Then she relayed a message that Jennifer now had a boyfriend!
Not only was the New Carl dead, now his coffin had been sealed shut!
This would have been a repeat of September 23, except this time Carl wasn't upset, he was ANGRY. She's got a boyfriend, huh? After she said she didn't have time for one? GRRRR! He took a long walk up the hill by the water tower near the cross on Mount Clef.
By the time he'd cooled off enough to be near other humans again he'd decided to try and change his image. Buy new clothes. Make himself look GOOD. Start a revolution or two. Make Jennifer sorry she'd ever hurt him.
Well, on the way to the store the following Tuesday night, his car died (again). With his limited budget, he couldn't do much in the area of buying new clothes. He needed his car fixed. He'd find other ways to vent his anger.
He spent endless nights in Studio A when the station was off the air, listening to music. Not the boppy new wave and '60s stuff his old roommates had hated. LOUD music. Hard, aggressive rock and gutsy alternative anthems like Joe Jackson's "Don't Wanna Be Like That." And near full volume on the headphones.
Whenever he passed Jennifer on the street, he'd barely acknowledge her. It got to where he'd look the other way or act like he didn't know her. The dude was MAD.
Later that year, she moved into Kristy Johnson's room in the west wing of Mount Clef Inn and he began avoiding that side of the dorm, determined not to speak to Jennifer for what she'd done.
November 13 found Carl at the pub with Andy and his ladyfriend Carolynne. It turns out this girl had a 17-year-old sister named Dianna who was newly unattached. Looking at her photo he thought "Yeah, I think I can climb back up on Cloud Nine." Hope for this was backed up as he spent much time in Studio A on the phone with her when the station was off. She loved new wave. She loved KROQ. Even better, she had a cable hookup which let her pick up KRCL and he'd occasionally bring the station back on and play music for her. Best of all, she was a brunette with short hair and therefore didn't look anything like Jennifer.
He finally landed a date with Dianna in mid-December. He took her to see the movie Neighbors (John Belushi's last film.) Carl must have looked like a real klutz on this date. The fact that this girl had once dated a member of the band The Surf Punks didn't help his image any. Neither did that fact that Carl had to use that---that---that CAR. Nor did the tacky red sweater he wore to her house. Or the classic slip-o-the-lip he made about one of her homemade gingerbread men having arms that looked like tits (he really put his foot in his mouth with that one!) When all was said and done, it became obvious that a high-class girl like Dianna was just a little out of his league. Needless to say, she wasn't impressed.
FIVE: ANOTHER SEED IS SOWN
From the outset, one would say that 1982 was shaping up to be a crazy year.
Take January for instance. Carl had one small class, "Crossword Construction For Fun And Profit" taught by Dr. Ed Julius. The class met only on Tuesdays which meant a glut of free time. Carl could have just stayed at the dorm one night each week and spent the other six days at home, sort of like a commuter student.
Looking back, maybe he should have.
One afternoon, he was watching TV in the SUB with a ladyfriend when a very rude soap opera fan came in with her friends and changed the channel to General Hospital. When Carl said something about it, the witch just exclaimed, "You've got a room full of females. What do you expect?"
Unfortunately for this immature little group, he knew something they didn't. In addition to the cable jack at the back of the TV, there was another one hidden way atop the cabinet.
Two days later Carl got his revenge. He went to the SUB and disconnected the hidden cable jack twenty minutes before General Hospital. He snuck back in about a half hour later and heard the sound of television snow and a few frustrated girls wondering what was wrong.
Carl's prize cat, Homer, died suddenly on January 21. About a week later he was watching television in the SUB and met a smiling, outgoing dude who was very active in the school's drama department. He had much in common with Carl, namely movies, girl problems and rebellion against the college's conformist social elite. He was a rather short fellow, Asian in appearance; a stocky, bearded freshman with the unlikely name of Solomon Spencer.
Someone donated $200 to KRCL and Don Haskell entrusted Carl with the money to buy albums. Rather than go to a major chain, he bought used records from independent stores like Rhino and Moby Disc, thereby getting a LOT of albums and making a bigger difference in the playlist.
Carl and Solomon formed an immediate bond. They would spend many a night sneaking into the New Earth to make hot dogs, and going to the Chuck E. Cheese in Simi Valley with a third guy, Stuart Scott, to spend the tokens Carl had gotten.
Dianna eventually got back with her old boyfriend, but given Carl's sloppiness on that date he doesn't blame her. By the spring, his thoughts were once again turning toward winning the heart of a young lady a little more his speed: Diane Proctor, the girl in Winslow.
Early April, 1982: Argentina was invading the Falklands, several men with chainsaws were frantically trying to free three whales stuck under the Arctic ice, and the students of California Lutheran College were beginning a week-long break.
Ah, the spring.
Carl and his father finally succeeded in calling up a computer information service from his dad's TRS-80. Shortly, Carl discovered an game written by William Crowther and David Long. It was called "Adventure" and the object was to explore a cave and bring treasures back to a building, all the while avoiding pits, dwarves with axes, a snake and a troll. He was so intrigued by this game that he wrote down everything he saw on the screen and tried to program it onto the Apple computers at college when he got back.
Over the break, Carl met a friend of David Webster's, a hyperactive young guy named Greg Barrial.
The big problem with meeting Diane was getting to Winslow in the first place. Craig and David came up with a little plan: next time they went to Prescott to visit their relatives, Carl could come with them, then take a bus or a train to Winslow. (Driving across unfamiliar desert in an unpredictable 1965 Rambler was pretty much out of the question.)
Carl went to the Auto Club and got a tour book for Arizona. On the way back to the dorm he got a ticket for mechanical problems.
Solomon spent the night at Carl's house on April 30. His outgoing, friendly exterior easily won over Carl's parents, as well as Craig and David.
FRIDAY, MAY 7, 1982.
Time was running out for students to pick their roommates for the following school year. Carl walked into the housing office and said he wanted to live with an R.A. in a freshman dorm. Sure enough, a future R.A. just happened to be there at that time, needing a roommate! His name was Chris Madsen. Carl and Chris shook hands and signed the housing forms. Now Carl's future was in the bag: he could mingle with the incoming freshmen and his social life would be born anew. Living with an R.A. and not being able to party in his room would be a small price to pay, but worth it, he thought. Very, very sunny skies ahead indeed.
Memorial Day Weekend: the Cole/Webster plan was put into action for the first time as Carl effectively "hitched a ride" to Prescott.
David Webster's grandparents, Marlowe and Mary Sisson, were retired jewelers who sold most of their handmade jewelry to the Sharlot Hall Museum in town. Their work was so good that their product was frequently sold out.
Around 9:30 pm that Friday, the Sissons were watching Falcon Crest on channel 10 when suddenly the station cut in with a live shot of a gunman holding newsman Bill Close hostage. Then the Webster entourage arrived at the Sissons' and they all watched the gunman read off some pretty whacked predictions. Happily, the guy gave Close the gun and surrendered when he was done reading. Great thing to see on TV when company comes over.
The next afternoon Craig drove Carl to the bus station. Carl was so tight on funds that $14.95 seemed expensive for a round-trip ticket to Winslow. Consulting the Tour Book, he found all the motels listed under "Winslow" a little out of his narrow range. He didn't get a bus ticket.
Checking a Winslow phone book at the Prescott library, he found several other, cheaper motels not listed in the Tour Book and discovered that he could have afforded it after all! By now, the only bus to Winslow was gone and he spent the rest of the weekend with Craig and David.
Carl's Suzuki 185 had been busted for two years, ever since Chuck LeMoine allegedly burned a hole through the piston after filling the tank with leaded gas. On June 14 Craig and David got it running again and did some off-roading in Topanga Canyon.
Still, even biking to Winslow was deemed too risky. There was no place for a suitcase, and as David observed, out on the open road "you'd have to stop every time there's a gas station."
The temporary job market wasn't what it had been in 1980 or '81. Carl helped sell fireworks with Mike Maricle down at Woodruff & Del Amo in Lakewood so he could go to Catalina, and cleaned up the patio so his father would give him money for the trip.
Carl only got two VOLT jobs this summer, and both were two days long. The first job was moving office equipment at Pacific Environmental Services in Santa Monica. He picked up his check the following Thursday, just in time for another Webster/Cole jaunt to Prescott. This time, all systems were go (except for one thing, Carl: just how were you going to meet this girl?)
THE FIRST ATTEMPT
Fourth-of-July weekend was shaping up to be a carbon copy of the Memorial Day trip. They spent the night at the Sissons again. Craig drove Carl to the bus station around 12:30 the next day, just like before, only this time Carl followed through: he bought a ticket, got on the bus, his heart filled with anticipation.
After Ash Fork and Flagstaff, the bus passed by wide spots with names like Two Guns and Twin Arrows. The sun was lower in the sky, Carl was getting tired and his excitement was beginning to fade as he realized his small problem: how was he going to meet Diane Proctor? Call her on the phone? Out of the question. She didn't know he existed. Just happen to pass by her, maybe? HA! Winslow ain't THAT small, dude. Close to 3000 people. Also, he had just enough money for a motel and a bite to eat. Nothing for emergencies. And what if he missed the bus back to Prescott?
Maybe he wasn't as ready for this as he thought. He began to feel uneasy as the bus got closer to its destination. It seems he'd packed everything except for one thing: his brain. As the bus hurtled indifferently down Interstate 40, he just sat watching open space pass by.
A building appeared on the horizon. Then another. Then still another. Then...a town.
Before he knew it, he was in Winslow. And scared half to death.
The sudden appearance of Winslow out the bus window caught him off guard. He got this strange feeling like he wasn't supposed to be here. There he was, alone with little money and no car, in a small town where he didn't know anybody -- and nobody knew him.
He got off the bus and crossed the street, feeling sort of like he was being watched. All the buildings looked really old. Bells rang on a nearby church steeple. The bells were obviously just a recording; the tape sounded warped and uneven, almost like the machine was trying to break down. The warped tape sound added an extra eerieness to the whole scene.
It was 5:00 and about 96 degrees outside. He turned west, facing the sun. Motel 6 was advertising a $14.45 price, but the "SORRY" sign was on. Two small Indian boys passed by him, each carrying a tiny kitten.
Carl talked to no one until he stopped at a cheap-looking motel near the west end of town. He'd been walking for a half hour and must have gone a mile.
The desk clerk was friendly and quoted a price of $12.95 for a room. Carl filled out the form, sweaty and still nervous. His hands were shaking as he signed the receipt.
He checked into room number nine and turned on the TV. He dozed off a couple of times and only left the room once to go to Burger King. He spent most of the night watching TV as the sounds of nearby train whistles lulled him off to sleep.
Completely unnerved by this trip, he went back to Prescott no closer to meeting Diane than when he'd first heard of her. But at least he got to see Winslow -- and he vowed he'd try again.
Carl's father helped him finance a new car. On July 25, he got a 1982 Toyota Tercel SR5. No more would he be driving the infamous Rambler -- the stigma of his reputation.
With a reliable car and unheard-of gas mileage, he could go to Winslow any time he wanted to, right? Wrong. There was still a problem of finances, and a procedural problem: how to meet Diane.
On July 31, Carl took a weekend trip to Crystal Lake Campground with Craig, David, Charles Workman and Bernard Ormsby. The things that this trip will be remembered for are Carl losing his gas cap at an ARCO station in Culver City and David using a rag for a gas cap; and Carl missing a turnoff and getting separated from Craig and Bernard for over two hours. Most of all, it will be remembered as the last great car trip the gang ever took.
Senior year was just over a month away. Carl vowed he'd make it the best year of his life. Was it just him, or did he sense some genuine standoffishness among many female students the past year? Having gotten bad vibes, he decided that he'd try to make things better this year. He came up with a plan: The Freshman Handbook, something that would tell about the college from a student's point of view. Hopefully this would have a positive influence on the incoming crop of freshmen that he was going to be living among.
SIX: CALM BEFORE THE STORM
On August 22, Carl got a notice in the mail. Suddenly, his room assignment for the fall had been changed. Instead of living in room 431 of Mount Clef Inn with Chris Madsen, he'd now be living in room 331 in the east wing, directly above the radio station, with none other than.....Solomon Spencer!
Solomon called him a few days later and told him that he'd arranged the whole thing himself with Marty Anderson, the director of housing.
This was even better. Not only could Carl build a new reputation, he could now party in the room as well! With a new car and a cool roommate, the stage was set for an even better year.
Solomon stayed at Carl's house a week before school started. The final draft of The Freshman Handbook was ready by the time they had to go back.
The printing cost took up almost all their money so they had to sell copies for ten cents to be able to survive until Monday when the cafeteria opened. J.T. still owed Solomon $120 for the phone bill from when they were living in North Hall over the summer, but it would be a few days before he showed. Carl forwarded Solomon the money, so now J.T. owed him instead.
Walking around to different rooms with copies of the book, he got to meet a lot of new students. One of the most attractive ones he saw was a girl named Angela in room 401.
The school year started out pretty good. KRCL signed on a week after orientation and Carl held the title of Production Director this year. One surprising note: Jennifer didn't come back.
Carl had success at a dance on September 11. He met a girl and took her to a midnight movie. Later they drove back to CLC, parked behind her car and two hours later she got out and drove home. (Although he didn't go all the way, he got farther with this girl than he ever did with Jennifer. Let's just leave it at that.)
One of Carl's favorite pastimes in the early days of this school year was to help the freshmen carry the flag at Cal Lutheran football home games. A couple of times, Carl hooked up with Andy, who played trombone in the pep band. They got Solomon and managed to get in free to two "away" games, both of which Cal Lu won.
J.T. came by one day and gave Carl half the money he owed him -- $60. This helped a lot. Although Carl lost some of his innocence on September 11, a relationship didn't pan out and he saw this girl only a few times after that, but still on friendly terms.
On Carl's 23rd birthday, Mike Maricle drove up from Long Beach for the opening of the time capsule.
About four or five people showed up that evening for the opening. Incredibly, the locker had been left undisturbed for a whole year! Carl and Mike opened the locker and examined the newspapers from 1981. the biggest story that week had been the assassination of Egyptian president Anwar Sadat.
Carl had a dream about Jennifer. He doesn't remember the details, but he recalls waking up the next morning upset with himself for giving her the silent treatment. He was beginning to fear that his past anger at her was going to cost him dearly. He had to talk to her. He went to the chalkboard in the Mount Clef hallway. He wrote, "Anyone who knew JENNIFER PAULING last year, come to room 331 on October 18, and we'll call her at 9:00 sharp." He'd gotten this idea from someone who had left a similar chalkboard message for Lowell McCain the previous year.
The only person to show up was Jennifer's old roommate, Kristy Johnson.
They called Jennifer and sang "Happy Birthday" into the phone. They all took turns talking to her. Kristy talked first. When she was done, she asked:
"Do you want to talk to Carl?" "Wait. Jennifer, what? What's wrong?" It seemed Jennifer didn't want to talk to him, even though his anger had long since dissipated.
Kristy gave the phone to Solomon, who started the conversation with, "Hey, how ya doin', sweet cheeks?" Then he talked to her for awhile. He, too asked if she wanted to talk to Carl. He must have gotten the same response Kristy had gotten, whatever it was, but Carl talked to Jennifer anyway. She told him that she was going to a junior college in Fairfield; he told her he had a new car. He asked if he'd ever see her again, but she said she doubted it, after all, she was up there and he was down here and all that. This was the last time he was ever able to talk to her. Later, Solomon said he'd call her again and talk to her further.
A check of the next phone bill found that he'd kept his word. In fact, he'd talked to her for over twenty minutes one day while Carl was out. He didn't give Carl any details of their talk except for his observation:
"She didn't want to talk to you."
"How come?"
"Oh, man, Carl, she REALLY didn't want to talk to you."
It was no use. Carl had to let go.
SEVEN: THE BEGINNING OF HARVEST
On November 1, Carl was in the room alone. Larry Love came over to visit. Larry was relaxing on Solomon's bed when he noticed a book on the desk that had "S.J. DELTA COLLEGE LIBRARY" rubber-stamped on the edge. This tweaked his curiosity.
"Hey Carl, who went to San Joaquin Delta College?"
"I don't know. Why?"
"That book. I think it's mine." Larry went over and checked out the book's title: Playboy's Book of Forbidden Words. "Yep. This is mine."
"Hey man, that book belongs to Solomon!"
"No, man, this book was stolen from me over the summer. You know the only two people here from the same town as that college are me and George Greathouse."
"Well don't take it, man. PLEASE."
"Okay, then, I'll just take his Walkman!" Larry picked up Solomon's portable stereo and started fiddling with it.
"OH NO! NOT THAT!"
"Okay, then, how about some of his tapes?" Larry looked at the tapes, one by one. "What's he listen to? These are all soundtracks. Hey, what's that over there?"
"Uh, that's his whip. It's a stage prop."
"Okay, then why don't I just take that?"
"NO!"
"Why not? You and Solomon whip each other every night?"
"No. Of course not. But don't take the whip."
Carl had succeeded in stopping Larry from taking the book, Walkman and tapes, but was unable to convince him not to take the bullwhip. Larry left with it and Carl followed him to the SUB. Larry started to doze off on a chair and Carl gingerly sneaked over to the whip. He was only a few inches from grabbing it when Larry awoke.
===
It was raining cats and dogs the morning of January 24, and Carl was almost late for class. He cut through the west wing of Mount Clef Inn. As he approached the exit, the door to room 401 opened and out came Angela. Carl held the hallway door open for her and she thanked him and asked, "Wanna share an umbrella?" The two walked down Memorial Parkway, chatting away. If only she didn't have a boyfriend!
At this point, Carl began to notice something out of place about this whole year. Why, if he were only living in room 431 as originally planned, he probably would have noticed Angela a lot sooner and gotten to know her better. Now, thanks to Solomon having changed the room assignment, it was too late. She was spoken for.
Depression was really starting to sink in.
===
Still, by this time, Carl was practically counting the days until the third week in May, when the semester would end and Solomon would be out of his hair for a while.
Then one day, Solomon asked him if he wanted to work for TOP theater during the summer. Before the initial shock had worn off, Dr. George Richter passed by. He was in charge of TOP Theater and Solomon introduced him to Carl. They shook hands but Carl said very little, although he agreed to an interview.
At first, Carl didn't know how he'd get out of this one. If he got stuck working at TOP, he'd be living with Solomon for practically the whole summer -- a situation he'd rather avoid. Then his brain kicked into action and he came up with a plan to squeak his way out of it.
Several nights later they went to a building in downtown Thousand Oaks for the interview. Dr. Richter interviewed Solomon first. Then came Carl's turn. Come on dude, put on a good timid act, Carl thought, as he faced Dr. Richter and Dr. Michael Arndt, the Drama Department Head, who was also a co-interviewer. Carl answered the questions with only the most basic replies, quite often using only three- or four-word answers and talking in a soft, unsure voice.
On the way home, Solomon told Carl that he listened in on the interview and thought that Carl probably wouldn't get the job. Carl outwardly looked concerned, but inwardly he was glad that Solomon thought this way, because it gave him hope that his plan had worked.
Sure enough, it had. A couple of weeks later Solomon got the notice that he was hired, but that they didn't think Carl was ready for the job. As Solomon left the room to go to class, Carl heaved a sigh of relief. Safe for the summer. [editor's note: ha ha.]
One day Carl ran into Rich by the west wing of Mt. Clef. Carl had to pretend not to like him, and barely looked at him. Rich said something like, "I know we haven't been the best of friends, but someday maybe that will all change." He sounded apologetic for any trouble he caused. Carl didn't say anything, but deep down inside he hoped Rich was right.
===
===
The two of them went out for breakfast. On the way back, Solomon mentioned that there was a dance the next night, and to bring up some more of his stuff on Monday. When they got back Carl tried to call Road Runners and bill the call to his parents' phone. His mother refused to accept the charges.
By all practical standards, there wasn't really anything keeping Carl chained to Solomon at this point. Thanks to the emotional support from his family back east, and faced with the possibility of losing 25% of his pay, he was pretty sure that today, September 23, would be the day he'd finally break away from Solomon Spencer –- the long hoped-for Liberation Day. And what better date than this -- it would cancel out that dark September 23 of two years earlier. Poetic justice of a sort.
The most fitting thing he could do now would be to go home and yell out the last lines from that famous 1963 civil rights speech: "Free at last, Free at last." He didn't think of it though. Besides, King had a dream. Carl was just awakening from a long nightmare.
Around 9:30 he got in the car and drove away. As he turned the corner by Regent's Building to go toward Faculty Street, a beautiful sight caught his eye: walking up the grass hill by the teachers' offices at Regent's, there was Angela -- all decked out in a dress. Her eyes never looked so pretty.
THIRTEEN: "DUCK!"
As the afternoon progressed, Carl mulled over what to do. He thought about sleeping in the car for the foreseeable future, only returning home when he absolutely had to and not answering the phone at all. He hesitated to call today "Liberation Day" in case he lost his nerve. What he needed was emotional support and a concrete decision not to talk to Solomon.
He stopped by Craig's house and told him, "I'm really not hanging around with Solomon anymore, because he's kind of [a jerk]..."
After dinner the floodgates opened wide and fast. Carl missed the love and support his relatives back east had given him. Sitting at the table with his mother, he just said, "You know, I really wish I was back in New York" and then unashamedly burst into tears.
He went over to Lee's Market and played a few games of Burgertime. Then an old friend walked in. It was Cesar, who had worked with him at KALT back in 1981 and been to that crazy Bible study with him.
Carl told Cesar a little bit about his troubles, and they walked to the back parking lot. Cesar said, "Would you like me to pray for you?" Carl accepted, and Cesar said a brief prayer in Spanish. Cesar was currently living in his car and Carl suggested they might soon be neighbors. Cesar told Carl where that Bible study was being held nowadays; Carl would attend it the following night.
When Carl got home, his parents told him that Solomon called while he was out. Carl didn't get nervous; he had a new found courage that freed him from feeling obligated to call that guy back.
By the next day, he was running out the door every time the phone rang so his mother could rightly say that he wasn't home. He also told Craig, David and Greg a little of what happened over the summer. Greg had suspected all along that something was wrong, but even HE was shocked when he heard the sordid details!
The four formed a solid bond that entire weekend. It was great. Even though Carl had never been arrested, he now had a general idea of what it must feel like to get out of jail after a long sentence. Man, the freedom!
After watching the movie Timerider at Craig's house that Sunday, Carl, Craig and Greg took an old fashioned cruise in Craig's Isuzu. They went up to Hansen Dam, then San Fernando, then up Foothill Blvd. in La Crescenta, listening to KROQ all the while. It had been a long time since Carl had heard that station.. They stopped at the Pic-n-Save and even swung by Leslie Thompson's house in La Canada. Her father was outside and Greg inquired if she was home. Then they cruised around the valley another hour or so and then headed back towards home.
He occasionally slept at Greg's house, and spent as much time away from home as practical. Solomon was relentlessly calling the house trying to find him -- and getting extremely frustrated. Finally he started calling Craig and David. They cooperated with Carl and said they hadn't seen him.
Monday night, the 26th, Carl and Greg went to Craig's Jiu Jitsu class at Penmar Park while David stayed home to watch AfterMASH. Later, they went to David's house and ate dinner. David had gotten a call from Solomon asking where Carl was. David told Solomon that he was at Jiu Jitsu. That settled it: Carl wouldn't be joining Penmar.
By Tuesday, even Road Runners was getting in on the act. Around 9:30 that morning, Carl was at a supermarket off Olympic Boulevard on the western fringe of Century City when he called the office.
One of the dispatchers, Bob, told him to hang there a little longer and wait for his beeper to go off. He didn't have any pickups for him at the moment. Then Bob asked him, "By the way, do you know a Solomon Spencer?" Carl said yes, and told Bob that Solomon was a guy he "wanted to get away from" and requested Road Runners not to give out any information.
A short time later, Carl called the office again and Bob answered.
"Hang out there a while longer. Oh, by the way, your buddy called again."
"He did?"
"Yeah, but we told him, 'hey, that dummy didn't show up for work this morning, so if you see him tell him to turn in his beeper. He's through.'"
"Great!"
He didn't have to worry about Solomon calling Road Runners anymore. When he got home, he was informed that Solomon had called the house again. His dad asked him, "Did you quit?" Carl said no, the story about being fired was just a ruse to throw our boy off the track.
Greg told him that earlier in the day, he'd gotten a call from Solomon too! Greg wasn't that nice to him on the phone and told Solomon that he could sick the Teamster's Union on him if there was any trouble. Solomon was getting convinced that Carl had truly disappeared.
That night, Carl went to Craig's house to help bathe their cat Fred.
Meanwhile, Carl's parents were making arrangements for him to go to New York and live with his aunt and uncle. At first, his mother suggested they have his car shipped back east but he protested, insisting on driving there himself.
Wednesday, Carl didn't go to work. The plan for New York was being finalized. His uncle Ron knew someone who worked at UPS in Manhattan. There might be a job for Carl there. He'd be leaving on Friday, September 30.
In two days.
He took a little time off from work and his parents took him and Greg to the Auto Club, where a route was mapped out from Santa Monica almost to White Plains. Part of the route took him down Interstate 40 -- right through Winslow, Arizona! (remember that place?)
Later, Carl's parents took him and Greg out for lunch. Carl's dad even financed the trip out of love and concern, loaning him a whopping $800 in traveler's checks. Carl went back to Road Runners and explained the present situation. He was well-liked there, so they were pretty cool about his giving only two days' notice. Greg and Craig were a little disappointed.
By Thursday, Solomon was getting discouraged. The repeated phone calls to Carl's house were few and far between. Carl and Greg went to Westworld with a friend of Greg's, a chubby kid named Danny Barfield. This guy was a master at Dragon's Lair.
Carl was home when his mother started writing a letter to Mrs. Spencer telling her all about what went on at the Ruby house over the summer. He and Greg had mentioned the night they went to Hollywood, and Carl's mother included this in the letter, but she stated that Solomon tried to get him and Greg to find a hooker as well! (He only wanted one for himself.) Solely because of this "slight exaggeration", Carl talked his mother out of writing to Mrs. Spencer, took the letter from her and threw it away.
Friday finally arrived. It seemed that it was too soon. He had not packed very much; everything was happening so fast. Around 10 that morning his dad called from work. Carl told him that he was first going to Thousand Oaks to pick up some pictures. His father told him to hurry up, because "it's not just your life that's at stake here. It's your soul."
He drove to Thousand Oaks to pick up the new prints of the Berlin photos. He heard a new Billy Joel song, Uptown Girl, on the Mighty 690. He'd later call this his official "Liberation Song", because it was the first new song that he hadn't heard while Solomon was in his life.
After he got the pictures he decided to take a chance on getting one final copy of the Echo. He drove to the CLC campus, parked near the Nelson Room, jumped out, ran to the newsrack by the cafeteria, grabbed a paper and raced back to the car. He drove off without anyone ever suspecting a thing.
The phone didn't ring again all day. Carl was finally ready to go by mid-afternoon. After a few hugs and kisses, his mother said, "The great adventure begins!" and at 4:30, he was off -- but first, he had two items of unfinished business to attend to.
On the way to New York, he stopped by Road Runners and picked up his paycheck -- all of $140 because of all the time off. He had one more check coming; he told the boss to send it to his Aunt Rose in Peekskill. Then he went to the pawn shop on Second Street to try and buy back the gold rings. It was too late. They'd been sold to another pawn shop across town, which by this hour must have been closed. But Carl was in a hurry to get out of there, so he headed east as it got dark.
FOURTEEN: IN A BIG COUNTRY, DREAMS STAY WITH YOU
He spent the night at Sharon's house (in separate rooms, of course) and told her a little about the summer. He skipped the gory details, but she got the point. He left her house early the next morning, right after breakfast. October had arrived.
The dawn of a new month in this case symbolized a fresh start for Carl. Ahead of him was the hope of making real money, renewed ties with relatives, untapped potential, possible romance.
And three thousand miles of road before it all.
Straying from the Auto Club route a bit, Carl stopped in Las Vegas. At one casino, a lady had just stepped away from a slot machine and Carl went over to it and put a nickel in. Up came three bars and an added $2.50 to Carl's finances. The lady left feeling stupid. Heading into Arizona, he stopped at Hoover Dam and took a few pictures, then ate dinner in Kingman.
The Mighty 690 held out until just past Flagstaff. Carl heard a mysterious new song that he thought sounded like Blondie's X-Offender from years back, but it was sung in German and the only word he could make out was "99". He didn't know the name of it. After he was beyond 690's massive range, he didn't hear the song on any other station.
He bedded down at the Winslow TraveLodge. The next morning, he called Craig. No, Carl hadn't met Diane yet, but he'd look for her. He also told Craig that he was sending postcards to everybody.
He hung around Winslow until mid-afternoon. He knew where Diane lived; he'd seen her address in the phone book. Knocking on her door was still out of the question, but simply driving by her house was not. And that's just what he did.
He drove up the street, slowing for a small white poodle that was standing in the road. Sure enough, the front of the house looked like it did in a photo from the 1981 Enquirer article.
He drove a few houses past it and then whipped around and came back, trying to get the best picture he could through a cracked windshield. He pulled to the edge of the road in front of her house and snapped the photo just as the song What I Like About You came blaring over the tape deck. Then it was off to Albuquerque.
===
Saturday, October 8, found pleasant weather on the east coast. Two of Carl's cousins, Anne and Ronnie, were having a get-together that evening at his aunt & uncle's house when he drove up. He recognized most of their friends because he'd been here in '78 and '79. One new girl named Lisa W. was quite attractive. The place hadn't changed a bit.
His aunt Jane greeted him inside as his uncle Ron was on the phone with Mr. Ruby in California, telling him that Carl had just arrived. Carl talked with his dad a bit, unpacked everything out of the car, shot the bull until all hours and then went to sleep by the downstairs tv. In all, he'd spent just around half the money his dad had given him for the trip. Pretty thrifty guy.
FIFTEEN: VAGABOND SHOES
For the time being, all the recent tragic events were filed away in Carl's memory, currently not given top priority. A job interview lay just ahead, not only for Carl but for his cousin Trisha's husband Christopher. There was the prospect of staying here for quite a long time.
The $400 or so Carl had left was quickly spent on a new sofa bed for him to sleep on. He also bought a new corduroy jacket for the upcoming UPS interview. Everything was going to be alright now.
First he needed a new driver's license. He went up to Haverstraw and passed the written test, and was awarded a license the same day.
October 18, the big day came. Carl met Christopher at a restaurant in a nearby town, and the two of them drove to Manhattan in Christopher's car.
The office was dingy and carpetless; it looked like a cross between a warehouse and an old court building. One dark-haired guy in a shirt and tie handed out the applications. Carl and Christopher each filled one out.
If your driving record wasn't spotless, you didn't have a chance. Christopher opted for office work; he had a DUI on his driving record so he didn't bother to fill out the driving part. He didn't get the office job.
Carl, on the other hand, still had the two tickets from April and June, and the 1980 "firecracker fender-bender" in Playa Del Rey with Craig and David, on his record. He didn't get the UPS job even though neither accident was his fault.
Christopher drove Carl around New York City, passing by the Dakota apartments and Central Park, and they visited the 107th floor of the World Trade Center. The trip was not a total waste after all.
For about a week Carl floated in career limbo. Finally Anne's boyfriend Jack got him a job as a security guard at Nyack Hospital for $4.25 an hour.
Shopping for a VCR was easy. He took frequent trips to Crazy Eddie's in Paramus, New Jersey to look around. The VCR hunt was stepped up when he heard that ABC was going to show a controversial movie just before Thanksgiving. He wound up buying a Panasonic PV-1220 at a small place in Nanuet.
Carl got the photos developed from the trip across the country. Some of his female cousins got a kick out of the road sign that said "Elk City -- Home Of Susan Powell, Miss America 1981". Others saw the picture of Diane's house thru the cracked windshield and Carl told them it was just a photo he called "Giant Spider Attacks House."
On November 20, ABC showed The Day After. Carl managed to record it and the ABC news afterwards. His tape collection had officially resumed, although it seemed more like a "kickoff." A few days after the movie, he was able to resume his Twilight Zone collection and start four new collections of shows, mainly I Love Lucy, Happy Days, The Honeymooners and M*A*S*H. Prime Time shows were out of the question because Uncle Ron and Ron Jr. were watching one game or another downstairs seven nights a week.
Carl was gradually phased in to the midnight-to-8 a.m. shift at the hospital. This began to test his relatives' patience a bit after a while. He would always come back to the house, try to sleep on the sofa bed, get kicked off it because his cousins had to clean downstairs, then crash out on Ronnie's bed (which Ron Jr. started getting tired of.)
By the time mid-December rolled around, Carl was seeing weather he was quite unaccustomed to. Snow that stayed on the ground several days, temperatures below zero. These things were foreign to the young lad from Southern California.
One spot he frequented was Aladdin's Castle at Nanuet Mall. There was a new game there called Cliff Hanger, a laser game just like Dragon's Lair. This game actually told you which moves you did wrong, so he quickly mastered the game. He found that each move scored 5,000 points, and when you put more money in and continued your game, your score was held over.
One day he brought a large amount of tokens with him, played for 90 minutes, and wrapped up the game with a score of 9,995,000 -- the highest score he thought would register. He caught the top spot and held it. Whether or not the game showed scores over 10 million he wasn't going to find out just yet.
In late December, Bob Neiser offered Carl a chance to get out of the daily routine at the hospital. He had another security job at a food processing plant in Mamaroneck.
Two days before Christmas he ate a bad fish sandwich at the hospital snack bar. Luckily, he had both Christmas Eve and Christmas Day off anyway so despite getting sick from the undercooked food he didn't miss a day of work.
A few days later at work he wasn't feeling so hot so he relaxed on an empty stretcher near the entrance. A nurse came by and chided him, saying it didn't look very professional.
Later on, Carl would learn that he'd been ratted on, possibly by that nurse. One morning soon after that, he walked in to the office and saw Bob Neiser. He said, "How are you doing, Bob?" and was going to ask him about the other security job. Bob chewed him out for relaxing on the stretcher and threatened to fire him if he was caught doing it again.
Carl left the office thinking that the security job in Mamaroneck was blown. However, the incident was soon forgotten and he got to work there anyway.
At night, parts of the Pure Food Company warehouse were downright spooky. Most of the watchclock stations were in poorly lit areas around the inside perimeter of the building. Another was in a separate smaller building with no indoor lighting to speak of. The key was in an unlit corner and you needed a flashlight to see it. Finally Carl started bringing a radio to work just to "ward off evil spirits." One day he brought it to the hospital, left it in the office and one of the guards walked off with it. Within a few days he had another one just like it.
One weekend, a newly-independent TV station in Waterbury, Connecticut scheduled an eight-hour I Love Lucy marathon. Carl had that Saturday off so he drove to a motel in Southington to set up his VCR. On the way there, he skidded in snow and almost hit a tree.
The recordings came out very well; sixteen of the most classic episodes of the series were added to his collection. He also called Craig.
Carl finally convinced Bob Neiser to give him the evening shift instead of the graveyard one. This eased the confusion at the house. But just a few weeks later, on January 26, Aunt Jane announced that the family would be taking a trip to Georgia in February to visit Uncle Ron's family. Carl asked if he could house sit while they were gone, but he was turned down. He wasn't making quite enough to keep an apartment, so pretty soon he'd be going back to California.
One New Year's resolution he made was that 1984 was going to be a "1980 version of 1978." He wanted to combine the good times of the early Cal Lutheran days with the zaniness of the Fastback era, and make up for the previous year. Well, 1984 would be zany, alright -- but it wouldn't always be fun.
SIXTEEN: AIN'T THAT AMERICA
A few hugs, some last-minute reflection, and he was off. This time, with a VCR, he vowed things would be more interesting. Stopping at an information booth in Ambler, Pennsylvania, he pushed the button on a speaker and asked how far it was to Allentown. The button wasn't working so no one heard him. Then the cap to one of his two front teeth fell off and he drove away, sure that it was still in the car. When he got to Allentown he stopped and looked for it, but after ten minutes decided that it had fallen out in Ambler while his head was out the window.
His teeth were not bugging him despite the loss of the cap. So with better sense than to look for a needle in a haystack, Carl stayed in Allentown. He recorded a bit of channel 69 and part of two videos on MTV, "You Better Run" and "The Politics Of Dancing". The tape labeled BASF-1 was born and was to be unique to the collection. He also recorded the Twilight Zone episode "Dead Man's Shoes" off of WPIX and fell asleep watching Capricorn One on channel 6.
He woke up early and recorded three Philadelphia test patterns and various station sign-ons, adopting the mindset that he'd never see this stuff again. Just before he checked out he heard the sounds of two people having sex in the next room.
Big plans for this trip had to be curtailed. To save money, he did another marathon drive through Ohio, calling his parents from Toledo and sleeping in his car in a bowling alley parking lot. Except for a nap in a motel parking lot a day later, he didn't bed down until Portage, Indiana.
He was down to seventeen dollars. He found a $14 a night room so he'd have three dollars left for food. The place was about what he expected for the price, complete with old-style radiator and lamp shade, white textured flower-pattern bedspread and black-and-white TV with rabbit-ears. The room looked like something out of the 1930s except for the TV. He tried to tape the network showing of Superman II. As luck would have it, all the Chicago stations came in clear except channel 7. So much for that.
The next day he made it to the credit union on Diversey Street in downtown Chicago. His finances went from some loose change to over $500. NOW he could get a real motel. He stayed at a nicer place in the Melrose Park suburb west of Chicago.
Attempting to hook the VCR to the TV in room 125, he noticed that one of the cable wires in the wall had a loose metal end. It got so loose that the picture didn't come in good at all. Depressed that he would not be able to do ANY taping, Carl went to the front desk and requested another room. The lady said she couldn't do that; his lodging had already been cast in stone. He got a little upset, then sulked back to the room.
The next day, however, he had a brainstorm: the people in room 124 were checked out and the maid would be coming. He told her his dilemma and asked if he could go in there and move 124's cable through to his room. She initially declined, but then said she'd do it if Carl paid her. It took a $5 bribe to get clear television back in his room.
He called Uncle Ron about the tire store and got directions to Wilson Ave. He drove up and down that street several times the next couple of days but there was no sign of the place.
The weather in Chicago was unseasonably warm for February. Salt boxes stood idle on street corners. More people were out and about. The sun was shining. A guy at a record store down the street told him that it had been like this for only two or three days. The pleasant weather combined with all these straight suburban roads reminded him of the San Fernando Valley in October except for the salt boxes.
Adding to the BASF-1 tape, he recorded an episode of "Night Court" and part of a speech by President Reagan. He fell asleep with the set on, and woke up around 3 a.m. hearing strange noises emanating from the speaker. Through the fogginess of half slumber, he noticed that the picture on channel 7 kept flicking to a negative image and back and the sound was scrambled with an echo. It was a new experimental pay-TV service he'd read about called TeleFirst, and it purported to broadcast recent Hollywood movies over the air so subscribers could get them before they hit video stores.
Fascinated by the eerie sound effects and negative imaging, Carl hit the record button. He taped about five minutes of what appeared to be a medical drama with a little boy. Later on that morning, he recorded more test patterns and sign-ons.
The second night, he went bowling. He stayed in Chicago an additional day in a last-ditch attempt to find the tire store. He went to a different motel for his third night. He taped a few more minutes of TeleFirst. When they started showing financial news, he figured this service didn't have too much longer.
The return trip was more musical than the October jaunt. One station was even giving away trips to Los Angeles to see the Grammys. Of the numerous stations in the area, Carl formed attachments to two of them: WLS and WMET. If you live in Los Angeles, it's obvious why he listened to the latter station. Although similarly formatted to L.A.'s Mighty Met, Chicago's played a couple of songs that discmeisters Ladd and Gonzer probably wouldn't be caught dead with: Rockwell's Somebody's Watching Me (with backing vocals by Michael Jackson) and Dan Fogelberg's Language of Love. Next to hard-driving tunes like Jump and Rock You Like A Hurricane, Rockwell and Fogelberg sounded as out of place as having Metallica on a gospel station.
When he wasn't looking for the tire store or taping weird stuff off the TV, Carl was driving all around the Windy City listening to WMET and trying to find a store that sold their t-shirts.
The mystery of the German "99" song was finally solved. Carl heard it in English as 99 Red Balloons. The station announced that Just Pants was carrying their wear, and within a day he had two t-shirts and a WMET painter's hat. Now he was really traveling in style -- wearing the gear and driving to tunes like Huey Lewis's I Want A New Drug; Robert Plant's I'm In The Mood (For A Melody); Just A Job To Do by Genesis; Kenny Loggins' theme song from a new movie called Footloose; and of course, 99 Red Balloons.
One song stood head and shoulders above the rest and really told it like it was: Pink Houses by John Cougar Mellencamp. Traveling across America made one really appreciate that song. Now he was on his way back, so he appreciated it 1½ times as much.
With almost half his money gone, he decided he'd better not stay in Chicago any longer just to get snow tires put on his car. He left the next afternoon and did another marathon drive. The Met faded out but WLS held on like the Mighty 690 before it. (He claims he once picked up WLS very faintly in Santa Monica after a 1978 summer storm which knocked out the power at Carl's Jr. and sent him home from work early.)
He picked up more fireworks in Missouri and fell asleep at a rest stop with the motor running. He bypassed Arkansas again due to the low funds, instead adding Kansas to his growing list of states he'd traveled. Developing a headache, he stopped at a Motel 6 in Hays and fell asleep in room 77 watching Sharky's Machine and a CBN special on starvation in Calcutta.
The weather in Hays was funky. It had just rained and it was warm and gusts were blowing. Carl awoke around 4 a.m. and went outside. A nearby breezeway felt like a wind tunnel, but it was warm, almost like the desert. It felt like heaven after that cold New York winter.
Later that morning, Carl flipped through a TV Guide he'd bought in Russell, Kansas. Just in time, he found a listing for an hour-long Twilight Zone about to come on. Luckily, the motel's cable company carried the Kansas City station showing it and he was able to add the episode "The Bard" to his collection, as well as episodes of The Lone Ranger and Star Trek, and an unforgettable commercial for Jim Dandy Used Cars that featured, among other things, a man taking a shotgun to a windshield.
As he drove through Colorado that evening, he began to worry. The temperature was dropping, he had no snow tires, and that white stuff was starting to appear everywhere. Altering the route a little, he drove on Interstate 70 and as he neared Utah the snow abated.
Carl got out of the car at a rest stop on the Colorado-Utah border to stargaze. It was almost pitch dark and the place resembled the inside of the Griffith Park Planetarium. There were no big cities anywhere near his location, so the view of the heavens was undisturbed even at the horizon. Stars were everywhere and he almost forgot he was on Earth.
The next day, as he approached Interstate 15 and saw the last of the snow, he was faced with a decision: should he visit Brent in Santa Rosa or just head home? Checking his money supply, that question was soon answered.
Carl cut through the northwest corner of Arizona, with its town called Littlefield, as he headed toward Las Vegas. He stayed at a small place off of the Strip, and spent most of his money at the Golden Spike casino playing a penny slot machine. When he hit the jackpot (a whole dollar) they announced it on the PA system. He filled his tank up that night, knowing he'd catch gambling fever and spend all his money otherwise.
He recorded a M*A*S*H episode (death of Col. Blake) off of KVVU, and left Las Vegas at noon the next day, determined to get to the credit union in Van Nuys before it closed at 4:30. At speeds averaging 70 mph, he made it!
Carl didn't go directly home after getting money. Instead, he stopped by David Webster's house. David was glad to see him. After all, it had been five months.
SEVENTEEN. "IT'S A FINE, FINE DAY . . ."
Carl's parents were a little miffed that he didn't come directly home. No big deal; they were so glad to see him it didn't matter. They spent the bulk of the evening watching old reruns from New York stations on Carl's VCR.
No one had heard from Solomon Spencer in a long time. It looked as though the last time he'd called was when Carl was in Albuquerque. Things had long returned to normal in Santa Monica. Carl could answer the phone again.
Greg came by the next day on his bicycle to welcome Carl back. David borrowed a couple of tapes with M*A*S*H on them.
A few days later, Carl called Road Runners. All he had to do was say who he was and they told him to come down to the office. He was re-hired without even asking. He never got the money sent to his Aunt Rose's address; the envelope had been marked "Return to Sender" and Bob handed it to him.
Even though it looked like Solomon had long since given up on trying to get a hold of Carl, the decision was made NOT to go to Cal Lutheran for any reason, at least until the start of the fall semester. After all, who knows what ideas had been planted by Solomon in the minds of some of Carl's closest associates? Would they still be his friends? Also, it was pretty much a sure bet that Angela would be back for '85.
Carl and Greg did make one trip up there, however. It was on March 17, just five days after the death of Dr. Wallace J. Asper. They only stayed on campus as long as they had to. Carl had to find out if Solomon was still going there.
They walked over to the window of KRCL's Studio B. A small 8½x11 sheet of paper told the bad news: Solomon still had a radio show, and therefore was still enrolled.
This part of 1984 was called the Blackout because Carl decided not to have any contact with any Cal Lu students until at least the summer. One day however, he was making a delivery in downtown L.A. and ran into John Penman. John mentioned that Carl had "dropped out of sight" and some people were wondering where he was.
Carl took John on runs with him for the rest of the day. They ate at the Marina Del Rey Carl's Jr. and talked. Yes, Solomon was still at the Lu. Carl instructed John not to tell anyone that he'd seen him -- not even Brian Lindahl.
Despite the Blackout, the spring of 1984 was a time of high morale. Road Runners meant steady income. There was a new crop of TV shows to record. And there was a back room to repair.
Carl's mother told him that there was going to be a church ladies' luncheon at the house some time in the near future. Also, a cute girl named Kirsten would most likely be attending. Carl met her a couple of weeks later. She was quite attractive.
With CLC relegated to Carl's "off limits" list, making Angela quite out of reach, he decided to try and impress Kirsten. He'd worry about how to do it later; right now his back room needed some major fixing up.
Carl was really into the home improvement scene in the spring of 1984. When he wasn't working on the back room, he was either at Builders' Emporium checking out possible supplies, or over at Lee's Market playing Donkey Kong Jr.
By late March, the entire room had been repainted. Instead of that aging peach-orange color, the back room was now an off-white. The illicit phone line to the back room was now rigged up to a metal box Carl had bought and drilled holes in. One day two GTE repairmen came by and offered to put in some real telephone line, in place of Carl's two wires, running from the side of the house to the back room. Carl was astonished when they told him that the phone hookup was perfectly legal.
Carl, Craig and Greg took occasional trips up to the Santa Monica Mountains to light off some of the many fireworks he'd bought in Oklahoma and Missouri.
The radio station of choice was now KKHR. It had come on the air shortly before Liberation Day, but this was the first exposure Carl had to it. Greg listened to it a lot.
===
On May 17, Carl had just left Beverly Hills from a messenger run and was heading west on Pico Blvd. A large delivery truck was backing out of a driveway very slowly. Carl started to pass him, reasoning that the truck wouldn't be close enough to be in his way.
It was a stupid miscalculation. The back of the truck met the right rear passenger's side of the SR5, causing practically no damage to the truck. The driver, Gustavo Luna, immediately called his supervisor, but the conversation was in Spanish and Carl couldn't make out what he said.
This was the beginning of the end of the SR5. During the next week, both Craig and Greg urged Carl to get rid of the car, even though it was still quite driveable. There was a large tear in the right rear of the roof, just near the window. It would cost mountains of money to replace.
Nevertheless, Carl and Greg took a trip to CLC the week before the graduation. Carl wasn't going to miss any more graduations. In spite of the blackout, he decided to go up there just to spite Solomon for not letting him go to the '83 graduation. It was still a week away so Carl and Greg spent a few hours in the computer room.
The week continued uneventfully until the next Friday morning.
The last time the Rubys had a telephone call at an ungodly hour was on January 9, 1979. His aunt Rhoda called his mother at 4:00 that morning. Carl had been asleep on a couch along the south wall of the living room, and the ringing phone awakened him. His mother answered it from the bedroom, and the second he heard her say "Hi, Rhoda", he knew why she was calling: his grandfather had just died.
The sofa was along the west wall these days. Around 3:15 a.m. the phone rang, jarring him awake.
Figuring it was a wrong number, he went over to answer it. "Hello?"
He heard the sound of two or three people talking and joking in the background. He repeated, "Hello?"
No response; just the background conversation. He said "Hello?" a third time.
Suddenly a low voice came on the other end and muttered softly, "You're dead."
Click.
Now Carl was wide awake. If he'd gotten a phone call like this at three in the afternoon it wouldn't have fazed him. But it was 3:15 in the morning. It was dark outside. No lights were on in the house. He was the only one in the room.
His father came out of the bedroom and asked who had been on the phone. Carl told him that a voice sounding a lot like Solomon had said, 'You're dead' and hung up.
Carl's dad advised him to move the car, and also to call Road Runners later in the morning and tell Bryan Herring not to give him any deliveries going to Thousand Oaks.
Carl drove the Toyota up to Danny Cragin's house, parked it on the street, then walked back home.
He was on his guard most of the day. He told Greg about the phone call, and Greg went with him on some of the runs. Around 6:00 they got done. Greg asked if he and Craig could borrow the car. Carl said okay.
That was the last he saw of the car until the next day.
Greg came over, minus the car. He told Carl that they'd been up in the hills somewhere near the west valley, and someone ran them off the road. The car was at Craig's house and Carl went to retrieve it.
His heart sank when he saw what was left of the Tercel. It had been rolled, and all the windows were gone. Its amazing the thing still ran.
Just shy of 43,000 miles on the odometer, Carl took the car on its final voyage to his garage. Stares and laughter occasionally punctuated the air as he drove down 23rd Street.
He let the car sit in the alley as he went to get his father. Some of the people at the Peterson house next door came out.
Carl's father surveyed the damage. Upon seeing the caved-in roof and non-existent windows, he exclaimed, "The good Lord was just patting them on the shoulder that they weren't hurt last night." Everyone agreed that the car was a total loss.
Almost halfway through, 1984 had indeed reached a turning point.
The year was heading south.
EIGHTEEN. THE ZOO
Carl and Greg sat on the grass in front of Grant School, across the street from Craig's house, on a brisk night that weekend. Carl bought his first can of chew since September 1983. He just decided to start chewing tobacco again, probably to get his mind off the fact that his car had been totaled.
Mike Fuchs had a moped that was registered to a friend of his, Eugene Blue Stewart. Carl was in the process of buying the moped. On Sunday, he used it to go to the CLC graduation.
Carl got there just as the ceremony was ending. Carl didn't care how much of the graduation he saw; he just wanted to go up there to spite Solomon for not allowing him the pleasure of seeing last year's commencement.
The moped didn't run too well on the way home and Carl didn't get back until nightfall. Craig had a small dirt bike that he let Carl use a few times for Road Runners. Unfortunately, a week or two later, Craig and Greg were riding up near Topanga Canyon when they got into an accident with a guy named Rendell Richards. That was the end of the dirt bike.
Carl still had use of the moped, but a short time after that it died too -- a few blocks from Mar Vista Bowl.
He exchanged a few tires from the dead Toyota with Molly Webster, David's mother. He also sold the seatbelts to Mrs. Cole. The middle of August, Carl's parents went to Santa Monica Blvd. to pick out a new auto. They almost bought a yellow VW Rabbit, but it didn't have air conditioning, so they picked out a blue 1972 Buick Riviera. Carl and Craig were a little disappointed that they'd picked a "guzzler."
On August 27, Carl had another one of his brainstorms. He asked his dad if he could use the electric car for local messenger runs. His dad said to give it a try. The next day he used the electric car to go down to Road Runners and try to start working again. He explained to Bryan and Bob that it didn't have much range but he could make runs to West L.A. or the marina. No downtown or LAX, though. He wasn't sure he could chance Beverly Hills. The valley? Forget it.
He was able to sell Bryan on the idea of local runs, and because this was a Santa Monica-based company, they had lots of clients in the area. He had his old job back once again.
Carl would occasionally run low on a charge, and he'd stop at a gas station and ask permission to use one of their outlets. He wasn't denied, but once he was talked to about using an outlet at Nine-Story. About a week into this routine Carl's dad decided to take the electric car to work and trust him with the Buick. Paychecks started to take off once again.
On September 1, he borrowed the Buick and he and Greg went to Thousand Oaks. Carl still had a few copies of The Freshman Handbook lying around; he took all of them up to Cal Lutheran and gave them to any freshman he saw until he ran out.
Later that night, they stopped by the USA gas station at Moorpark and Janss Roads. Carl walked up to the booth and couldn't believe who was behind the counter: Rich Tange!
Carl hadn't seen or talked to Rich since that day in May 1983 by Mt. Clef Inn. With Solomon practically out of the picture, Carl had no problem in restoring his friendship with Rich and healing all the old wounds.
He went back to the car and asked Greg if he wanted to meet Rich. Initially reluctant, Greg came out and met him. A lot of Rich's buddies were hanging around the place with him as he began his shift. These guys liked the same kind of music Greg did. After a while, Greg liked hanging around here so much that he didn't want to leave.
Carl, Greg and Rich engaged in an animated discussion about that ill-fated 1982-83 school year. The topic quickly became Solomon, whom Rich blamed for screwing up his friendship with Brent and Carl. Greg got an earful of this stuff from Carl and Rich, and if he had any doubts in his mind about what went on the previous school year, they were now erased.
The mood at the Ruby house had begun to shift again. There was talk of helping Carl finance another car. On September 7, Craig took Carl and Greg to Mike Miller Toyota and they all walked around the lot. There were many choice automobiles there. Carl looked around the lot for several minutes and then found a car he fell in love with -- a brand new, champagne-colored 1984 Toyota Corolla five-door, hatchback diesel.
He drove it home the next day.
The new school year had just begun. Excitement welled up in Carl's heart at the thought of talking to Angela again. Where was she living now? Conejo? Rasmussen? New West?
He slipped away from the dance and ran towards the west end of campus. He ran up and down each level and checked every single door of West End and New West dorms. Her name did not appear. He couldn't think of where else she could possibly be. Being a junior, she couldn't be living in Mt. Clef, Pederson or Thompson dorms unless she was an R.A. She didn't seem like the R.A. type, and it was highly unlikely that someone had pulled the same dorm-housing stunt that Solomon had on Carl. Benson, Mattson and McAfee houses had long since been utilized for other purposes. The only other place he could think of was Kramer Court, but they don't list the room occupants on their doors.
When Carl got back to the dance, Brian and John told him that Solomon was there. Carl, Craig and Greg left and they all went over to John & Brian's room. Carl learned that a guy he knew, Sven Slattum, had been killed in an auto accident over the summer, along with two other students.
Craig talked with John about the military while Carl and Greg drove to the store.
When they got back they chatted with John. Brian wasn't around, but Greg looked at some of Brian's Dungeons & Dragons equipment. He was impressed that Carl hung out with a guy who was into this stuff.
Carl came up with a three-phase plan to undo all the damage Solomon had done. Phase One involved restoring his friendship with Rich Tange. Carl considered this phase already accomplished. Phase two would be to restore the friendship between Rich Tange and Brent Paulson. Being that Brent was now living a happily married life up north, this would be impractical, so the best Carl could hope for was getting the two to stop feeling ill towards each other.
The third and final phase would indeed be the most difficult of all: winning Angela's love. he'd have to know if she was taken. He'd have to impress her if she wasn't. But first he'd have to find her.
If this three-phase plan were entirely successful, all would be right with the world. History would be on its proper course again. But Carl didn't want to call it the 'three-phase plan'. He had to think of a better name than that.
And so, on September 8, 1984, the Peace Mission was born.
---
PART I: The Early Years 1981-1984
PART II: Delays And More Delays 1985-1992
PART III: The Denise Years 1993-1996

BACK TO HOME PAGE