Dave's Episode Reviews


Best Viewed With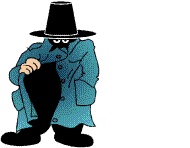 SLIDERS: Now on

---
Remmy's excellent song from Asylum WILL BE HERE WHEN I UN-CRASH MY COMPUTER!! KHJ

Dave's Home Page (Pod Earth)

Alternate Dave's Home Page (Geo Earth)



Click here for EZ Return to NetForum
---
NOTE: All sound bites remain the property of St. Clare Entertainment and Universal Studios. No copyright infringement is intended. Please do not use the sound bites on any other page without including this disclaimer.
---
CALIFORNIA REICH
Airdate: 24 August 1998
Guest Cast
JERMY ROBERTS as Kirk
CAROL HOUSTON as Kirk's mother
HIRAM G. SANDERS as Harold
JAMES HORNBECK as Doc
JAMES JOSHUA as Doc #2
GEORGE McDANIEL as Governor Schick
SANDRA LEE PECKINPAH as Woman
PHILIP TAN as Man
CARL GABRIEL YORK as Director
Written by SCOTT SMITH-MILLER
Directed by RESTON WILLIAMS JR.
Possibly one of the most important episodes to date. The sliders land in a world where California has elected a racist governor with presidential aspirations. With the passage of Proposition 286, the Racial Repatriation Act, it becomes open season on anyone who's not white. Listening to Remmy talk to Harold, we learn that this world did not have a Hitler or a WWII, and is just noow learning of the horrors of racism. The episode handled the delicate subject matter responsibly and tastefully; we hear no racial slurs as the targeted groups are referred to as "migrants."
Some of the images here had a lot of impact; mainly the scene where Rembrandt is zapped with a taser gun and we then see black and white footage of him getting kicked a la Rodney King. (This must have been an emotional episode for him -- do you blame him?) I can't help but wonder what would have happened had Schick been elected president. Poetic justice would dictate a Kromagg invasion on a world that would deserve it.

Click here for EZ Return to NetForum
---
ASYLUM
Airdate: 17 August 1998
Guest Cast
VALERIE PETTIFORD as Dr. Helen Donovan a.k.a. Dr. Grace Venable
THORSTEN KAYE as British Special Agent
LARRY McCORMICK as TV8 Anchor
ROGER HEWLETT as Driver
MARILYN RANDALL as Nurse
Written by BILL DIAL
Directed by MICHAEL MILLER
After jumping out of an airplane and sliding to the next earth, Quinn is severely injured and spends most of this episode out of the picture. This may be a sign they are getting us ready for a Quinnless fifth season that is so talked about recently. At first, Colin thinks this is his home world, what with horse and buggy and all. What's kind of haunting is the fact that while they have television and electricity on this world, an ambulance, with lights flashing and sirens blaring, is being pulled by horses! Turns out the Kromaggs have been here and left, taking most of the oil and gas.
Rembrandt Brown has a love interest in this story, and he pens a beautiful tune called (apparently) Straight Outta Heaven. Cleavant Derricks really ought to pursue a singing career if this show gets cancelled. Interesting story.
TRIVIA NOTE: On our Earth, Larry McCormick really is a newscaster -- for KTLA channel 5 in Los Angeles.

Click here for EZ Return to NetForum
---
SLIDECAGE
Airdate: 27 July 1998
Guest Cast
LEAH AYRES as Darla
ANTHONY DAVID as Luther
Featuring:
Reiner Schone
Kelly Connell
Rende Rae Norman
Kelly Connell
Chad Todhunter
Written By MARC SCOTT ZICREE
Directed By JERRY O'CONNELL

The Sliders again attempt to visit their home world -- Quinn even knows where they are going before the slide! Trouble is, when they get there, it's not what they expected!
Interesting concept, this "slidecage". Kind of like putting a whole world on Call Forwarding. No one can ever slide out of it. Food is synthetically prepared. And Kromaggs, at least, are unable to reproduce.
Mr. Mallory must have had a lot of help to build this cage; what with 73 different levels and 2300 tunnels. (And Mr. Thomas Beecham has done a good job of evading everyone by living within the walls!) But why put travelers on a hostile planet? If Quinn's father can cloak an entire earth, how come he couldn't put some kind of force field or negative signature around an entire world to prevent people from sliding out of it? It would be much more humane.
MSZ has proven himself to be a fine script writer. He seems like the Rod Serling of Sliders. (Zicree, by the way, also penned The Twilight Zone Companion.) This episode, however, owes more to Star Trek than to Zone. Note the alien-like earth at the beginning (not to mention the gratuitous reference to Trek.) There's also the Kromagg version of Spock's Vulcan Mind Meld. And how about the way everyone slides out at the end? It looked more like a beam-out from a Trek movie than a slide!

Click here for EZ Return to NetForum
---
JUST SAY YES
Airdate: 13 July 1998


Guest Cast
KATHERINE MOFFAT as Dr. Helena Malone
J. AUGUST RICHARDS as Damon
JAMES SUTORIUS as Agent Fletcher Lowell, D.E.A.
CONNIE SAWYER as Winifred
GONZALO MENENDEZ as Jorge
DAVID URSIN as Cab Driver
DENNIS WILEY as Greg



What if you found a world where it was the same year, you were the same person, but everyone else was on drugs? No, you wouldn't be on our earth (although it might fool you for a stretch). Colin and Maggie found the place and they liked it -- until, well...I'm not gonna spoil it for the few who haven't seen it.
It hasn't taken long at all for Colin Mallory to forget about his home world and his long lost Susanna (although her evil double might have helped him in that area last week.) It was a smart move on the writers' part to turn Damon into The Damonator for a good portion of the second half. This helped fill out the story. However, I wouldn't use this episode for a school anti-drug program because it was a bit too light-hearted.
That's not necessarily bad, though; the lightness of the episode provided for some great dialogue and sound bits, the best of which I have included below. And that building called The Abbie Hoffman Memorial Clinic -- great gag! This episode also has the distinction of being the first 4th season show not to use the word Kromagg.


"JUST SAY YES" SOUND BITES:


thingy.wav
Colin telling the truth about how he got there, in a way in which you wouldn't believe him.
Mono/8 bits/11 KHz 18 sec/194 Kb
antiquin.wav
Agent Lowell describing their world's Quinn. Great use of terms that sound the opposite of ours.
Mono/8 bits/11 KHz 26 sec/279 Kb
getlow.wav
Hear Druggie World's Quinn speak for himself in the style of a '60s protester.
Mono/8 bits/11 KHz 22 sec/238 Kb


Click here for EZ Return to NetForum
---
OH BROTHER, WHERE ART THOU?
Airdate: 6 July 1998

Guest Cast
SUSAN HASKELL as Susanna Morehouse
BEN JONES as cop
ADRIENNE BARBEAU as Mrs. Morehouse
ISHTAR as Betty
MARTIN ERIC as Farmer #1
VAN STEWMAN JR. as Farmer #2
introducing CHARLIE O'CONNELL AS COLIN MALLORY



Quinn finally meets his brother! Now things are REALLY cookin'! Like Quinn, Colin is an inventor. UNlike Quinn, he's a pariah. This must explain why he is cooperative in sliding with our trio despite having to let Susanna go. He must be desperate to go where his work will be appreciated.
The earth they slide into seems a little too normal, except for the bone graft and DNA Debit transactions, and the fact that traffic lights are yellow only for one second. Alternate Susanna seems totally innocent right up until her mother says "Get that stiff in the sauna". THEN you understand something's up. Of course, you might have been tipped off to this twist by the investigator in the hotel room.
Bill Dial and MSZ did a fine job on the teleplay; Chris Black's story writing was splendid. For Colin's entrance into the wonderful world of sliding, I'd say he gave us a great first impression. (Sure learned how to work that cellphone fast!) One question, though: If Colin's earth had no electricity, how did he know to use the phrase "cathode display unit"?


"OH BROTHER" SOUND BITES


imyerbro.wav (Quinn) - Mono/8 bits/11 KHz 8.93 sec/96.2 kb
shack1.wav (Quinn/Remmy) - Mono/8 bits/11 KHz 16.81 sec/181 kb
shack2.wav (Quinn/Remmy/Maggie) - Mono/8 bits/11 KHz 14.15 sec/153 kb


Click here for EZ Return to NetForum
---
WORLD KILLER
Airdate: 29 June 1998
Big, big improvement over last week. The storyline made it seem like we were getting back to the sound purity of the first two seasons, and the pacing of the episode was more realistic.
Two things seemed strange, though: Alternate Quinn sees his double, but for some reason this does not faze him. (It may be that he thinks he's hallucinating.) Also, when did people's "signatures" come into play? Apparently Alternate Quinn's machine only affected people from his home world. (Hmm...interesting concept. A wormhole taking in some but not all.)
Overall, I liked this episode much better. I've observed two things about this season: (1) There's a reference to Kromaggs in practically every episode, and (2) with the Professor gone, Remmy's getting all the good lines! (And you can hear one of them by clicking on "shipwrk.wav" below.)

SOUND BITES FROM WORLD KILLER:


shipwrk.wav -- (Maggie & Remmy) Mono/8 bits/11 KHz (279kb)
imalone.wav -- Alternate Quinn Mono/16 bits/11 KHz (150Kb)

---
VIRTUAL SLIDE
Airdate: 22 June 1998
Although it was entertaining, I felt like I'd watched three episodes. What kind of bugged me was not the gratuitous Kromagg reference in the beginning, it was the fact that halfway through, we learn that everything we've seen since the episode title was just a VR fantasy. I should have known something was amiss when they purportedly missed the slide.
The reference to "natural resources to exploit" made me wonder if Randall Simmons' secretary was really Logan St. Clair played by Conchita Leeflang. And speaking of Randall Simmons, if he really is just the "middle management type" that Quinn says he is, where are the bigwigs? And how is it that Simmons exerts so much power?
On a lighter note, I really got a kick out of how when the Sci-Fi Network went to a commercial at one point, they plugged the show "VR.5" -- and immediately afterwards showed one of those "Imagine TV" ads for a Mercury! (Hey, is this a good arrangement or what?) I didn't see VR.5 last night but I can't help but wonder if the characters did any sliding. (Hey, after all...)
In any event, I can't wait for Quinn's brother to show up and help them. This episode was so confusing I had to watch it twice!
---
COMMON GROUND
Aired on Sci-Fi Network, 15 June 1998
Well folks, we're just getting into the fourth season of our favorite show and I must say it looks promising. The continuity has improved a bit as we see a tighter story line coming into being. Twice in a row now the show has ended with the start of the slide to the next world which we don't get to see. I was particularly impressed by the reference to the unpleasant stay on Earth 113; the characters previously seldom mentioned events of a few episodes ago (let alone two seasons).
This may be a little presumptuous, but we seem to be going light on Rickman (oops -- just found out he's dead -- never mind); heavy on the 'Maggs. (This is excusable; our sub-human adversaries seem a more immediate problem.) As long as they don't totally forget about the rogue Colonel they'll be okay. Showing a Kromagg with some compassion was a bold step, but a bit risky. Whether they want to elaborate on this or just write him off as an aberration is anybody's guess.
In all, the fourth season has started off with a bang, and I hold good hopes for this series now. As Jerry himself said, Sliders is now "in the place it truly belongs."

Dave Andrews
Return to Main Sliders Page


Click on the word links to go to the Sliders Links Page!